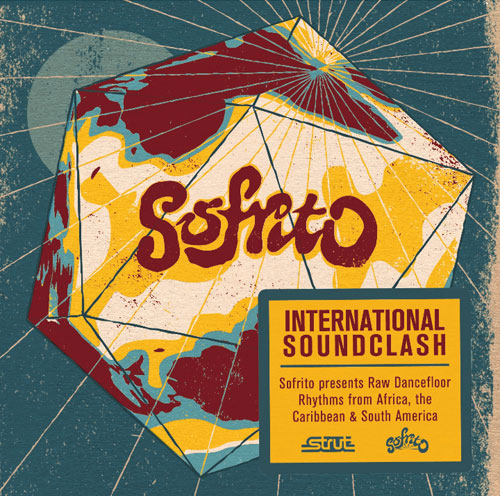 [soundcloud url="http://api.soundcloud.com/tracks/54956078″ params="show_artwork=false&show_comments=false" iframe="true" /]

Midnight Groovers – "O Ti Yo"
Sofrito: International Soundclash
Sofrito and Strut Records have linked up again to release an incredible compilation of Caribbean, South American and African music on Sofrito: International Soundclash. Their previous joint effort, Sofrito: Tropical Discotheque, received lots of praise and this new set of music is as diverse stylistically as it is geographically. There are vintage and contemporary tunes from Dominica, Trinidad, Colombia, Cameroon, Congo, Haiti, Guadeloupe and beyond.
DJ Hugo Mendez and producer Frankie Francis have joined forces to compile these irresistible grooves. The Sofrito collective have become known for their genre-jumping crate digging. Their "Sofrito Super Singles" vinyl series is legendary among underground producers and DJs. From obscure Nigerian boogies to Colombian dance floor stompers, Sofrito knows eclectic, international music. While some of these gems are from the 1970s, others are recent releases and they all gel perfectly with one another. International soundclash is right; these tracks show how the heart of a good tune is in the rhythm and while each comes from another country, has a different tempo or instrumentation, they will all get you moving.
Have a listen to Midnight Groover's "O Ti Yo" above or at soundcloud. Led by local legend Chubby, the Midnight Groovers are one of the most influential bands to come out of the small island of Dominica. This track from the late 70's is laced with tasty synthesizers and organs along with nice minor key vocals, a rolling bassline, and an angular cadence rhythm. One listen will get you out of your chair and dancing. Pick up the LP/CD/Digital wherever fine music is sold and as a bonus, if you buy the LP/CD, there is a nice pull-out poster by Lewis Heriz which interprets Sofrito's fresh perspective on the world with a specially designed cut-out globe.
TRACKLIST
1. Lord Shorty & Vibrations International – "Vibrations Groove"
2. La Pesada – "Cumbia y Tambo (En La Lluvia)"
3. Midnight Groovers – "O Ti Yo"
4. Les Difficiles de Pétion-Ville – "Fe'm Confiance (Tropical Treats Edit)"
5. Owiny Sigoma Band – "Nabed Nade Ei Piny Ka F"
6. Mas Ka Klé – "Lésé yo Palé"
7. Kiland et L'Orchestre Mabatalaï – "Pour Chercher le Magot"
8. Bell'a Njoh – "Ebolo"
9. Concept Neuf – "The Path (Sofrito Edit)"
10. Grupo Canalon – "La Zorra y El Perol"
11. Les Vikings – "Ambiance (Guhe Huiamo)"
12. Sartana et Son Groupe Mistral – "Information Par Le Mistral"
13. Luis Kalaff y Sus Alegres Dominicanos – "Agarralo Que Eso Es Tuyo"
14. Afro Festival led by Fantastic Tchico Tchicaya – "El Manicero"
15. Melodica Teens Band – "Mwekuru Muthao"