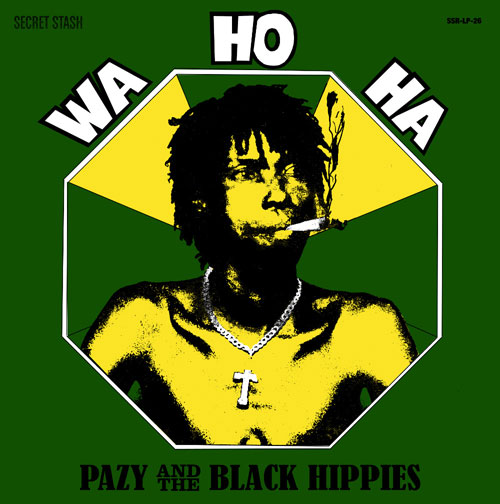 [audio:http://splintersandcandy.com/wp-content/uploads/2012/09/Papas_Black_Dog.mp3|artists=Pazy and the Black Hippies|titles=Papa's Black Dog]

Pazy and the Black Hippies – "Papa's Black Dog"
Wa Ho Ha

Here we have a special reissue from Nigeria circa 1978. Secret Stash Records, in conjunction with Comb & Razor, have decided to re-release a sweet gem from Pazy and the Black Hippies. This vinyl loving, independent label from Minneapolis digs deep, unearthing lost treasures from around the globe. They recently released a fine batch of grooves from Afro Funk, which we featured back in March. This time around they've reissued another slice of Afrobeat and highlife with a bit of reggae on Pazy and the Black Hippies' Wa Ho Ha.

Edire "Pazy" Etinagbedia and his band the Black Hippies hailed from Southern Nigeria's Benin City. Wa Ho Ha was their sophomore release and was originally issued by EMI Nigeria in 1978. Rock steady grooves, funky Afrobeat horns and psychedelic guitar riffs fill this fine release with seven irresistible tracks. Listen to the distinct style of Pazy and the Black Hippies on "Papa's Black Dog" above.

Since Secret Stash Records is dedicated to collectible LP packages, they have a special offer for a limited edition, green vinyl with a custom screen printed jacket designed by Burlesque of North America. They will only release 300 copies of the green vinyl version of the album, so get it at the Secret Stash Records' store before they are gone. The LP also comes with a digital download, so you have no reason not to grab this beauty. Take a look at the preview video below to hear and see what you're missing.