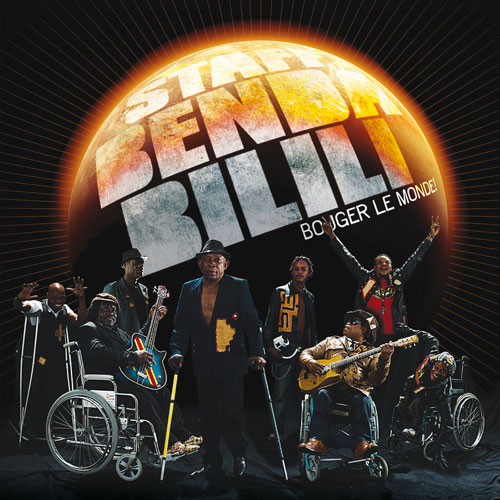 Staff Benda Bilili have come a long way since they released Très Très Fort back in 2009. They have toured the globe and impressed audiences with their musicianship and glowing optimism. The group of paraplegic musicians from Kinshasa in the Democratic Republic of Congo have also been the subject of a documentary entitled Benda Bilili!, which was directed and written by French filmmakers Renaud Barret & Florent de la Tullaye. Their new album is entitled Bouger le Monde and is out September 3rd on Crammed Discs.
The band started out playing a fusion of rumba, reggae, and vintage R&B at the Kinshasa Zoo and on street corners throughout the city. When Renaud Barret & Florent de la Tullaye discovered this energetic group of musicians playing mostly homemade instruments, they got in contact with Vincent Kenis, a Belgian producer (of Congotronics fame) who signed them to Crammed Discs. They recorded their first album, Très Très Fort at the Kinshasa Zoo and the album took off in the international market. "Benda Bilili" translates to "look beyond appearances" – literally: "put forward what is hidden" and the band continue to do that on their new record, Bouger le Monde.
The new album was again produced by Vincent Kenis, but this time he and the band chose to record in the old Renapec studio, where legendary rumba/soukouss stars such as Franco, Tabu Ley, Papa Wemba and Pepe Kalle laid down some of their best tracks. Staff Benda Bilili also added three members to their lineup since they released Très Très Fort: drummer Montana, lead guitarist Amalphi, and young percussionist Randy (who played with the band in the past and now returns). The result is some scorching lead guitar and more rhythmic textures. The vocal duties on Bouger le Monde are shared with seven members this time around and the lyrics are sung in four different Congolese languages as well as French.
The band's enthusiastic approach rocks even harder on this release, which contains some of their best material to date. The clear production and added musicians gives the band a sharper edge and drives each song right through your speakers. "Bouger le Monde" translates to "move the world" or "make the world shake" and Staff Benda Bilili are certainly doing that. They have also formed their own NGO to help disabled people and homeless children around them to get homes and jobs. In addition, they are founding a school which will give them professional tuition (in mechanics, carpentry, music and computer science). Watch the video below for "Osali Mabe" recorded live in Kinshasa and pick up Bouger le Monde on September 3rd. Catch the band at Symphony Space on Thursday, October 18th.