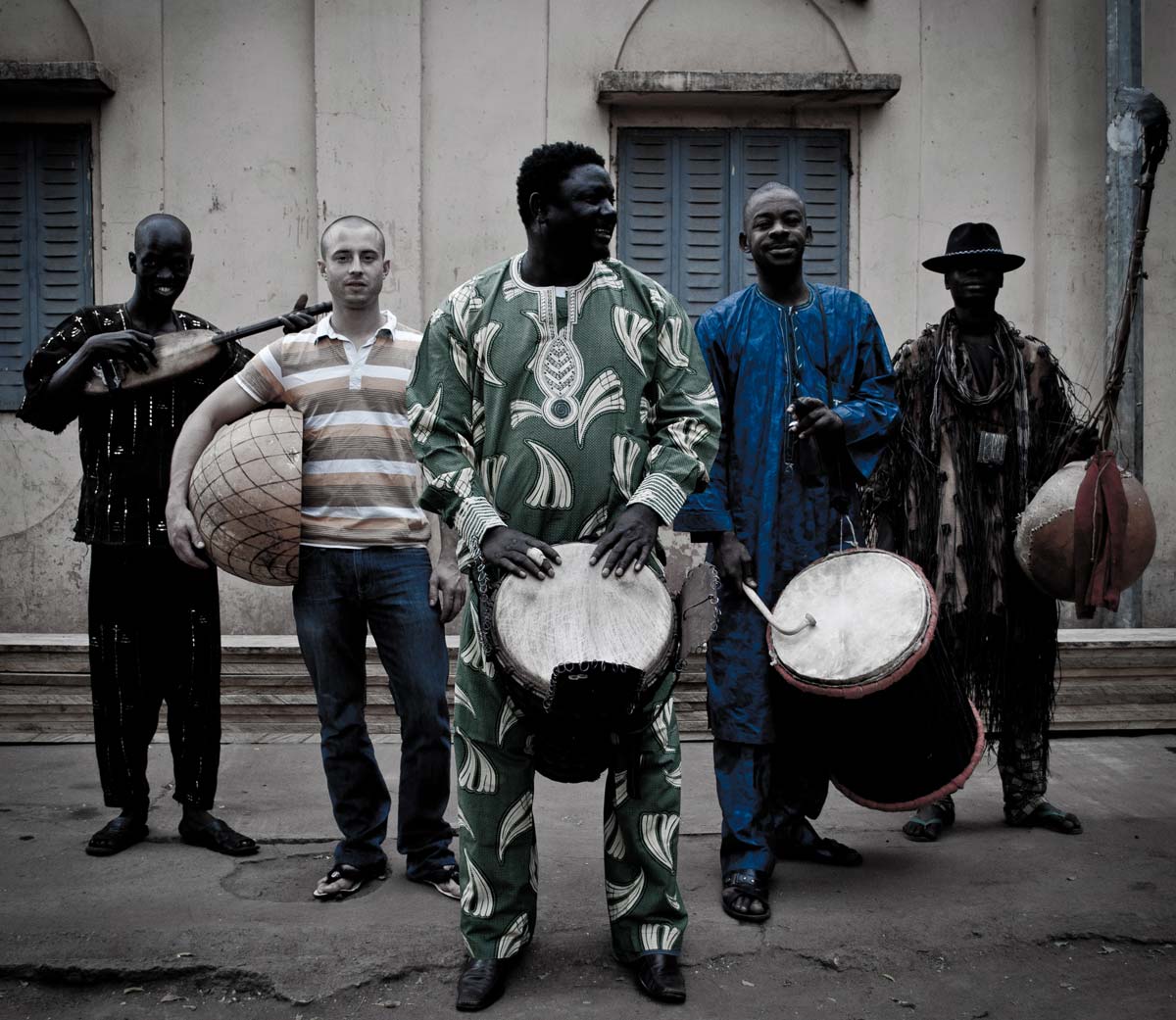 We are honored to have Akenataa Hammagaadji of First World Music present his list of Best African Music from 2015. His show on January 3rd featured three hours of global African music including selections from this Top Ten.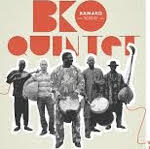 1] BAMAKO TODAY BY BKO QUINTET ON HELICO
The album opens with a muscular, pulsating, short riff on donson'goni; a dog whistle that exciting, arresting riddims from Ouassolon are about to take hold of your body & mind. Soon enough, the lead vocals of N'faly Diakité confirms it as he sings vaguely familiar lines to a tune entitled N'TANAN. And then you will remember, yeah, Nahaoua Doumbia sang that one. The collection has that feeling as other familiar songs are dressed in a freshly pressed bazin. STRANGE OUSAAOLON is a cover of the Toumani Koné original; MOGO TÈ DIYA BÉ YÉ. DIÈLIKÉ is a version of GUÉDÉ as I know it from National Badema. And SACRED BIRD is the awesome DOUGA. And you might have heard KING OF SÉGOU before as BAMBOUGOUTCHI. But this is a modern album. The easily noticeable aesthetic is of amplified, distorted dièlin'goni, made popular by Bassékou Kouyaté and other sound effects that are thankfully, not cheesy or corny. The lead vocalists are first rate, both possessing captivating technique. The aforementioned N'faly Diakité is obviously steeped in the arts of the donsoserow which he expresses with his strong, masculine voice. And Fassara Sacko is a dièli, also in possession with a strong voice and a sense of dramatic phrasing. This one is a classic.
2] AT HOME BY FATOUMATA DIAWARA & ROBERTO FONSECA ON JAZZ VILLAGE
For most of the year I thought I would put this CD at #1 at the end of the year but I changed my mind as I was compiling the list. At 6 tracks, this document is frustratingly short. Annoyingly stingy. It's too cruel really. I really needed more of Fatoumata's great singing. I really needed more of Roberto's jazzy improvisations & spellbinding glissandi on piano. I really needed more of Idrissa Sidibé's kamalén'goni. I needed more of Ramsés Rodriguez's dynamic drumming. I needed more of the ambient sounds of an exuberant audience, thoroughly trilled to the marrow by a first rate band fusing jazz, Cuban & Ouassolon traditions so naturally. AT HOME is frustratingly short. That's why it's at #2 for 2015.
3] RENASCENCE BY KANDIA KOUYATÉ ON SYLLART
We have had to wait 12 years for a new studio album by the great ngara; Kouyaté Kandia. And RENASCENCE is well worth it. A triumphant return. The crisp, deft playing on his album will leave you stimulated, if you have feelings, and elevated, if you are strong enough to relax and let the music take you away. Her voice is almost as powerful although the range has noticeably lessened. So many standout tracks on this collection but I have to mention KASSI DOUNDO. The minor key this one is set to, is mysteriously & irresistibly attractive. And the celebratory MANDIALA is emblematic of the triumph of her recovery from the devastating stroke that put her out of business for more than 12 years. Welcome back Kandia, with one of the year's best!
4] DIMBAMBÉ BY MARIO COMBO ON ASSOCIATION MAP
Imagine a small treasure chest bursting at the lid. So many tracks on this one that has the possibility of "HIT" stamped all over it, if the industry was still in that era that is. This artist from Cameroun has a talent for writing hook laden songs, thoroughly modern in sensibility but based on Camerounian traditions. Entirely irresistible. You'll be singing along with the chorus on many of the songs.

5] VANGAZA! BY BRIAN CHILALA & NGOMA ZASU ON SWP
I was so glad to have this CD from Zambia this year. It's a country that's very under-represented in my musical collection. And what a good one this one is! I can hear strong similarities to Zimbabwean styles. And, strange as it may seem, to the taarabu of Mombasa. Boiling bass & insistent guitar are hallmarks throughout the collection. Many distinct traditional riddims make the basis for the songs on this contemporary collection. This is what we look for. Bravo to Brian for pulling it off.
6] FROM KINSHASA BY MBONGWANA STAR ON WORLD CIRCUIT
From the ashes of Staff Benda Bilili was born this outfit; Mbongwana Star. Their album; FROM KINSHASA, contains the same stylistic aesthetics as the music of Kononi #1, Kassi Masai & the aforementioned Staff Benda Bilili. Traditional beats, electrified traditional & homemde instruments & electronia meld together to create a fresh sound. This collection has it all. One of the best of 2015.
7] HERANÇA BY LURA ON LUSAFRCA
After 6 years without a studio album, the Queen of Funaná returned in 2015 with a highly anticipated collection that didn't disappoint. SABI DI MAS opens the album. It's the kind of song that banishes feelings of ennui and pulls you to the dancefloor with a smile. Feeling blasé? Play SOMADA to banish it. And also NESS TEMPO DI NHA BIDJISSA; another funaná. X DA QUESTAO is a smooth coladera type. And MARIA DI LIDA is another uptempo number with a diffeent riddim from coladera, funaná or batuku. GORÉ is kinda counterintutive. A song about slavery with a soukous riddim? I don't ever feel like dancing to this one. And I must admit to skipping all the ballads on the CD to get to the uptempo numbers. Still, one of the year's best.
8] AKO BY BLICK BASSY ON NO FORMAT
A very careful work, very well conceptualized & executed. A triumph of artistry, experimentation & risk taking, resulting in a delicately beautiful collection.
9] MILÉ SÈK MILÉ BY LINDIGO ON HELICO
It's very rare to get music from La Réunion; a remote island east of Madagaskar, still under french colonialisation. The most popular genre is maloya; a powerful sound, buoyed by deep, insistent drums. There's lots of that here. But Lindigo are also experimenting, pushing the boundries, taking the music to another level. Usually I say this as a contemptuous insult but not in this instance. First of all, not all the songs are in the maloya genre. Check out VOILA & MORAL DE LISTWAR. And, the songs that are maloya benefit from the addition of instruments from Mandé; dièmbé, doundounba, bala & n'goni. There is also accordion. They all serve to colour these songs with a broader chromatic palette. I would be remiss is I did not mention the charismatic stage presence & strong vocals of lead singer Olivier Araste.

10] 22 STRINGS BY SÉCKOU KEITA ON MWLDAN
I don't like when European & North American "world music experts" say things like Toumani Diabaté is the best in the world. It's a bombastic, ignorant expression of bloviating egos. These are talking heads who do not even know who is Noumoukounda Cissokho, much less heard him play. But, there are other aspects to kora playing besides 100kmph fingering. Listen to Séckou play with patience, and you will be rewarded. His grace, elegance, warmth will alight upon you. And, Séckou has something that Mamadou, Toumani, Ballaké & others like them lack; a singing voice. His is a gorgeous, elastic instrument. On KANA-SILA, it sounds achingly divine. Same as on the old standard; MANDÉ. And there is dynamism on here too. Follow him along for the ride on FUTURE STRINGS IN E. You won't be able to anticipate the twists & turns, the roller coaster heights & nose dives in the trajectory of the notes.
BEST REISSUE
LION SONGS BY THOMAS MAPFUMO
BEST LIVE RECORDING
AT HOME BY FATOUMATA DIAWARA & ROBERTO FONSECA ON JAZZ VILLAGE
BEST LIVE SHOW
BUENA VISTA SOCIAL CLUB AT UPAC IN KINGSTON, NY.