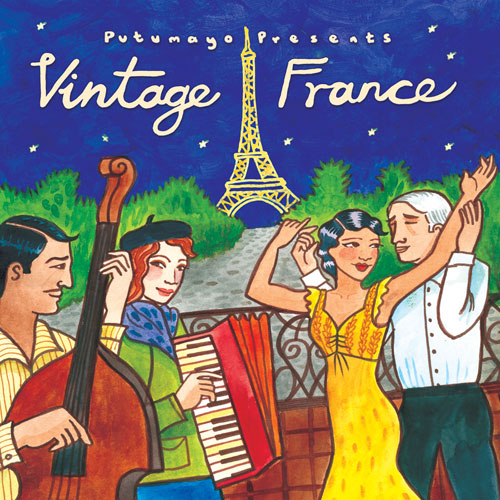 The music of Paris during the 1950s and 60s sounds fresh and energized on Putumayo's new compilation Vintage France. Over the course of twelve tracks, legends and contemporary artists come together to perform French classics. Instead of simply picking vintage French tracks to reissue on this collection, Putumayo founder and CEO Dan Storper decided to mix old and new versions of popular French songs.
"Originally, we were going to focus on vintage recordings of popular French songs. But there were many challenges to using old recordings and it just wasn't clicking. Then, we began to discover some wonderful, contemporary versions. We even asked Francesca Blanchard to record a cover of one of the most popular French songs of all time." – Dan Storper
Vintage France offers the best of chanson, which follows the rhythms of the French language. From old favorites like Juliette Gréco and Norbert Slama to newcomers like Francesca Blanchard and Dutch harmonica master Martijn Luttmer, Vintage France touches upon Gypsy jazz, musette instrumentals, cabaret singing and more. This collection provides a terrific overview of the latter half of France's golden age of pop music. Fans of Edith Piaf, Maurice Chevalier and Serge Gainsbourg won't want to miss this CD. Stream the album above or on bandcamp.
TRACKLIST
01. Juliette Gréco – "La Valse Brune" (France)
02. Asier Etxeandia – "J'attendrai" (Spain)
03. Madeleine Peyroux – "La Javanaise" (United States)
04. Patrick Nugier – "Jardin d' Hiver" (France)
05. Martijn Luttmer – "Les Parapluies de Cherbourg" (Netherlands)
06. Daniel Roure – "Les Baleines Bleues" (France)
07. Norbert Slama Trio – "Nany" (France)
08. Francesca Blanchard – "Sous le Ciel de Paris" (France)
09. Raphaël Bas – "Confessin'" (France)
10. Art Mengo and Lara Guirao – "Je Me Fais des Idees" (France)
11. Jean Claude Laudat – "Cloviswing" (France)
12. Philippe Gautier – "Menilmontant" (France)