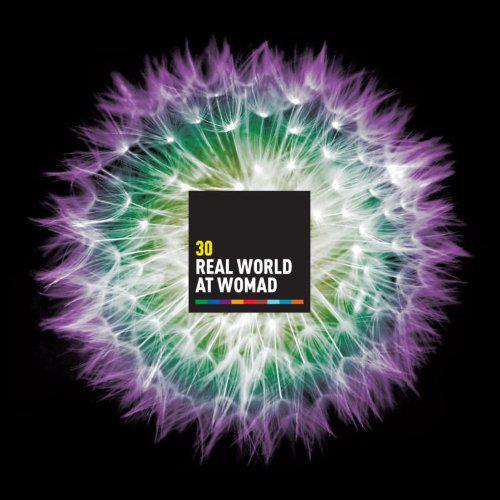 [soundcloud url="http://api.soundcloud.com/tracks/42980191″ params="show_artwork=false&show_comments=false&color=21759b" iframe="true" /]

Geoffrey Oryema – "Makambo"
30 Real World at WOMAD
2012 has been a remarkable year for Real World Records. Peter Gabriel's imprint has released nearly 200 albums in their 23 year existence. In addition to announcing their Gold series, which is re-releasing many of the classic Real World titles that have been hard to find or out of print for years, Real World has released a compilation of performances gathered from the legendary WOMAD festival. WOMAD the "world of music, arts and dance" festival was started 30 years ago by Gabriel and quickly became the most important world music event in existence. Gabriel noticed that many of the artists performing at WOMAD lacked good record deals and access to high-tech studios, so he formed Real World Records to give musicians the ability to record their music on state-of-the-art equipment with global distribution.
"For a long time, I resisted the idea of a record company, as it's hard to be poacher and gamekeeper simultaneously. However, I relented when it was clear that many of the amazing artists coming to the early WOMAD festivals were unable to get any good offers to make a record, or, for that matter, access to the best-sounding equipment. Thomas Brooman, WOMAD's former Artistic Director, finally convinced me of the need to try a label." – Peter Gabriel
30 Real World at WOMAD is part of the ongoing Real World Gold series. WOMAD is seven years older than Real World Records, but their symbiotic relationship grows stronger every year. This double-CD 30-track compilation showcases a wide variety of artists from around the globe. Traditional and contemporary styles meet on this fascinating set. One particular highlight is Geoffrey Oryema's "Makambo." Oryema is a singer-songwriter from Uganda who was exiled after the murder of his father, Erinayo Wilson Oryema, who was Uganda's first African Inspector General of Police (1964-1971), Minister of Land, Mineral, and Water Resources (1971-1974) and Minister of Land, Housing and Physical Planning (1974-1977). Erinayo, together with Archbishop Janani Luwum and Interior Minister Charles Oboth Ofumbi, were bullied, beaten and eventually shot down by security forces of President Idi Amin. Geoffrey was smuggled out of Uganda in the trunk of a car, taking the languages of his youth, Swahili and Acholi, with him. He got his start as a recording artist under the guidance of Peter Gabriel on Real World Records and performed at Woodstock 94, which raised his profile worldwide. Now Geoffrey enjoys a large, international audience which blossomed under Real World Records and WOMAD, like so many of the talented artists featured on this album. Listen to "Makambo" above and sample the Gold series at soundcloud.
TRACK LIST
01. "Bakwetu" – Papa Wemba
02. "Azmari Dub" – Dub Colossus
03. "People Get Ready" – The Blind Boys of Alabama
04. "Ever So Lonely/Eyes/Ocean" – Sheila Chandra
05. "Obiero" – Ayub Ogada
06. "The Legend of the Old Mountain Man" – The Terem Quartet
07. "Spinner" – Portico Quartet
08. "Abet Abet" – Samuel Yirga
09. "Waide Nayde" – JuJu
10. "Believe" – Ozomatli
11. "Nasikitika" – Remmy Ongala & Orchestre Super Matimila
12. "Shadowman" – Afro Celt Sound System
13. "Tiger Phone Card" – Dengue Fever
14. "Fingers" – Joi
15. "Extract" – The Drummers of Burundi
16. "Happiness Is?" – Yungchen Lhamo
17. "Chilumi Kigumu" – Zawose & Brook
18. "Tracery" – Nusrat Fateh Ali Khan
19. "Makambo" – Geoffrey Oryema
20. "Lubara Wanwa" – Aurelio
21. "Ruñidera" – Orquesta Revé
22. "Hard Times" – Little Axe
23. "Redemption's Son" – Joseph Arthur
24. "Erkalab" – Sevara Nazarkhan
25. "El Pescador" – Toto La Momposina y Sus Tambores
26. "Edem Chanté" – The Creole Choir of Cuba
27. "Dragonfly" – Guo Yue
28. "Eleanor Plunkett" – Iarla Ó Lionáird
29. "The City and the Stars" – Spiro
30. "The Rhythm of the Heat" – Peter Gabriel