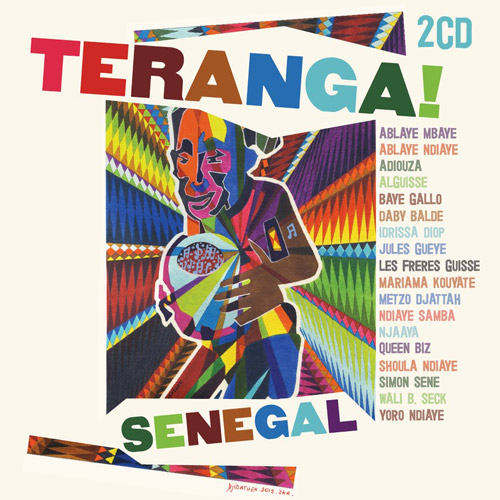 [soundcloud url="http://api.soundcloud.com/playlists/3045556″ params="show_artwork=false&show_comments=false" width="100%" height="325″ iframe="true" /]

The holidays are here and for those last minute shoppers, there is an unmissable slice of Senegalese music available in the nick of time. Sterns Music has just released Teranga! Senegal on CD with a digital version available on 12/24. This two-disc set features a wide variety of Senegalese sounds from the past and the present. For a country largely known for mbalax and hip-hop, there is still plenty of popular music that falls outside of those realms and isn't commercially exploited. Roots music and styles associated with specific traditions grace this impressive set.
Teranga is an important word and way of life in Senegal. It translates loosely to "hospitality" but means much more than that. The idea is that no one should be left out in the cold. People invite strangers in for shelter or food in a community effort to help one another. If everyone helps each other out, no one gets left behind. That concept extends to the supportive music scene that has nurtured so many fine artists including Ablaye Ndiaye Thiosanne, Les Frères Guissé, Yoro Ndiaye, Idrissa Diop and more, many of which are included on Teranga! Senegal.
Sample tracks from Les Frères Guissé, Queen Biz and Mariama Kouyaté above or on soundcloud. Les Frères Guissé is a band of three brothers that play acoustic music with strong harmonies and supporting percussion. Queen Biz has a warm voice who gained a lot of inspiration from Lauryn Hill of the Fugees. Serious about her studies as well as music, she holds a Master's degree in International Public Law and Political Science. Mariama Kouyaté is from a very artistic family with generations of musicians. Her powerful voice and acoustic / Afrobeat music burns with passion. Every artist on Teranga! Senegal may come from a different background, but they all share in the communal warmth of teranga.
TRACK LIST
CD 1
01. "Fouta" – Les Frères Guissé
02. "Mbeugel" – Daby Baldé
03. "Ndiaye Diatta Ndiaye" – Ablaye Ndiaye Thiossane
04. "Sunu Rew" – Ablaye Mbaye
05. "Wallou" – Queen Biz
06. "Galayabe" – Ndiaye Samba Mboup
07. "Mbeugue Dem" – Yoro Ndiaye
08. "Halaname" – Daby Baldé
09. "Lika Niaw" – Ndiaye Samba Mboup
10. "Sagane" – Baye Gallo
11. "Sire" – Les Frères Guissé
12. "Jammi Reew" – Shula Ndiaye
13. "Léopold Senghor" – Simone Sène
14. "Thierno Samassa" – Alioune Guissé
15. "Diembering" – Metzo Djattah
CD 2
01. "Xarit" – Yoro Ndiaye
02. "Saragnima" – Mariama Kouyaté
03. "Salamane Mone" – Alioune Guissé
04. "Dembe" – Jules Guèye
05. "Dana Megne" – Njaaya
06. "Siket" – Ablaye Ndiaye Thiossane
07. "Amour Impossible" – Wallly Ballago Seck
08. "Yaye Magana" – Ablaye Mbaye
09. "Samba Mbalax" – Adiouza
10. "Mbidaane" – Njaaya
11. "Nobel" – Idrissa Diop
12. "Ndiaye" – Jules Guèye
13. "Niou Dem Thiès" – Ablaye Ndiaye Thiossane