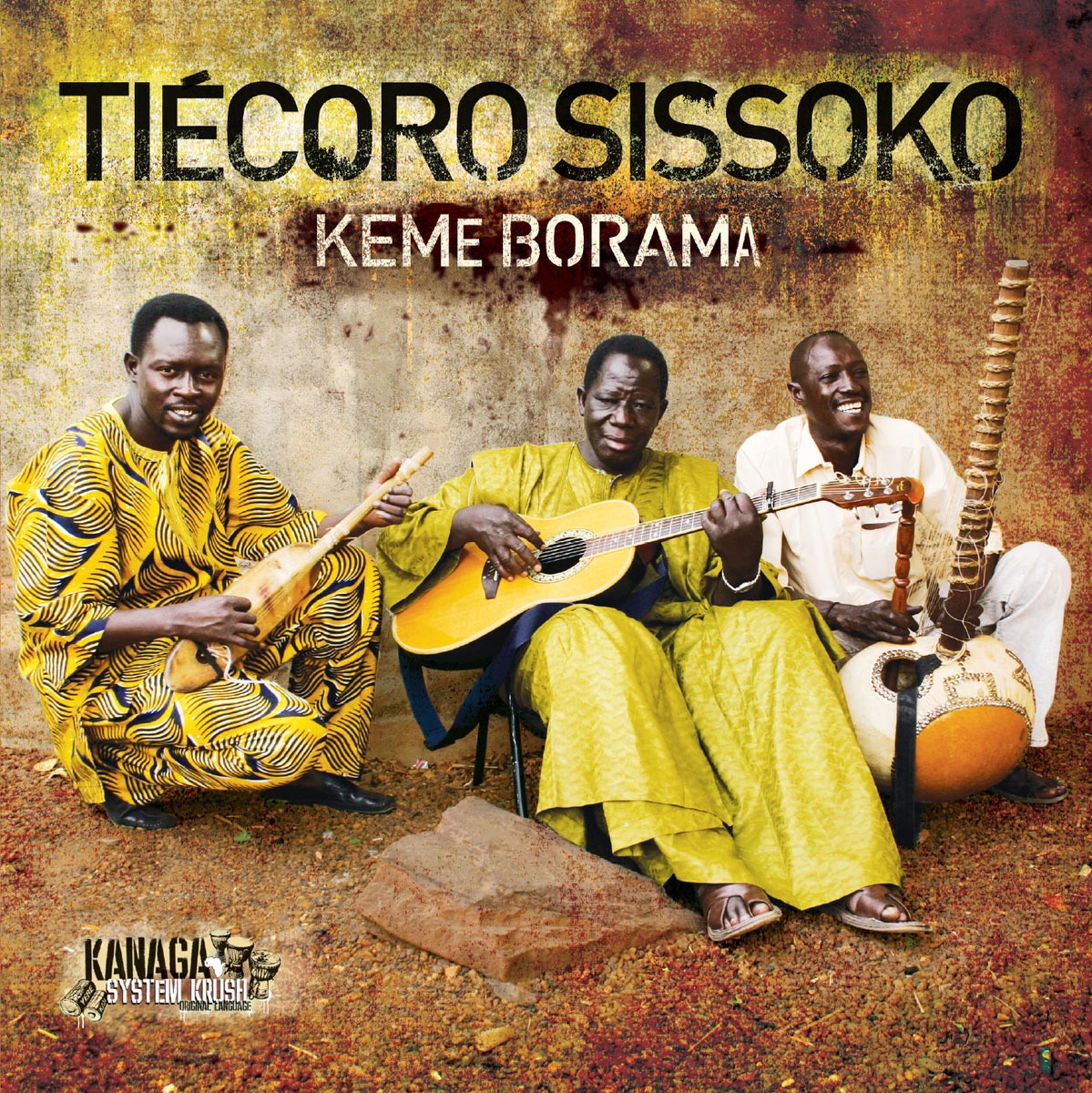 The late, great Malian griot Tiécoro Sissoko passed away in 2012, before the release of his first album under his own name. Born into a family of griots in Kenieba, in the westernmost Kayes Region of Mali, music surrounded him as a child. He started out playing tamani and ngoni but switched instruments when his brother Djelimady helped him buy his first guitar and instructed him when he moved to Bamako. Over the years Tiécoro Sissoko worked with many artists, including Toumani Diabaté who he performed with weekly, Mangala Camara and Zani Diabaté. He spent time in groups like Bama Sabba and Bambara Percussion Group before he formed his own band, Super Sabaiya, which evolved into Tomokorobogou Fulani.
Keme Borama captures the raw talent of Sissoko alongside Madouba Camara on kora and Adama Tounkara on djeli ngoni. Recorded at Abdoul Doumbia's compound in Bamako, the natural setting lets the music speak for itself without the need for studio intervention. Every nuance is captured with exceptional clarity, offering a vibrant listening experience. These details shine with every passage played on Sissoko's acoustic guitar. His fingerstyle technique is emphasized when he sings or hums what he plays, offering a robust sound before working in a quick embellishment. The buzzing of the strings on the fretboard and the tapping of his fingernails on the body of the guitar add nice percussive elements to his rhythmic approach.
The album is split between solo and group performances. The title track is a group effort, an old folk song popular across West Africa. "Keme Borama" tells the story of a heroic older brother who fights a tough battle, and even though he is fatigued, he conquers a village. The djeli ngoni and kora add nice layers of harmony, slotting in nicely with Sissoko's dynamic guitar playing.
While the group sounds terrific, the solo compositions are remarkable. Sissoko's voice is powerful and clear throughout the record and he commands attention on tracks like "Ti Ta Ti," "Sa Funke" and "Nyari Guasa." He balances passionate, melodic singing with rapid spoken sections, telling stories and giving advice as only a wise griot can. Sissoko's substantial presence is felt in every song and while he may have passed, he left behind a legacy pinnacled on Keme Borama.
Originally published in RootsWorld Magazine.