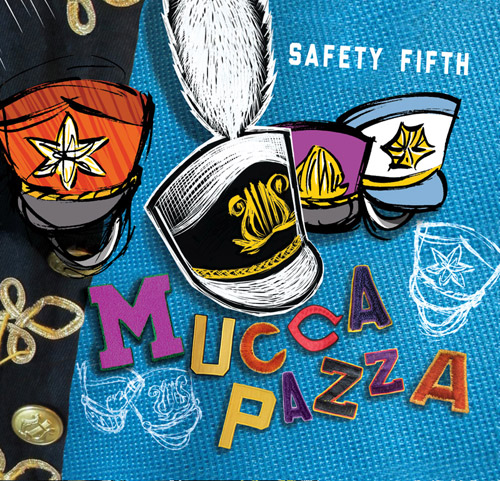 Mucca Pazza is the wildest marching band you've ever seen. The dozens-strong ensemble from Chicago just released their new record, Safety Fifth, on Electric Cowbell Records. Traditional marching band gear, a "freak" section of stringed instruments and accordion create an atmosphere where anything can happen. A Looney Tunes inspired honking brass number may lead into a slow Ethiopian groove or a booming drum cadence while the band marches in formation. Mucca Pazza keeps you on your toes while they incite mass dance riots across the land. Gary Kalar, the mandolin player, believes there is more to Mucca Pazza than meets the eye.
"We look like a marching band and occasionally behave like a marching band, but we don't sound like one. We care about the music we play; it's not a novelty thing. We just don't fit into any hyphenated genre." – Gary Kalar
Mucca Pazza spent a lot of time playing music beside the Chicago River as they gathered together to practice on Sundays in an old factory parking lot. Sousaphone player Mark Messing says the industrial surroundings "felt like we were putting something together from scrap." This scrapyard sound is heard all over Safety Fifth as the band clatters and bangs away. The group twists and turns, mixing anything from tango to rock to spaghetti western soundtracks to Egyptian grooves, as they march in bright band outfits. Inventive solutions to portable problems, such as the hockey-helmet amp for the stringed instruments, allow Mucca Pazza to expand upon the traditional marching band setup. Cheerleaders and onlookers will join the fanfare as Mucca Pazza tours throughout the summer. They will be at the Strange Victory Party at Public Assembly in Brooklyn on June 14th. Grab Safety Fifth on LP/CD and check out the video for "Boss Taurus" below.