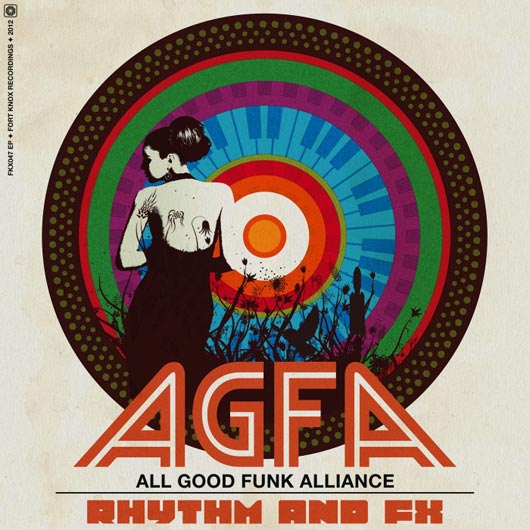 [soundcloud url="http://api.soundcloud.com/playlists/1707904″ params="show_artwork=false&show_comments=false" width="100%" height="315″ iframe="true" /]
Frank Cueto and Rusty Belicek are the brains behind All Good Funk Alliance. This duo has opened for James Brown in the past, so they know how to deliver the goods. They've recently released a new EP entitled Rhythm and FX on Fort Knox Recordings. All Good Funk Alliance are always looking for the latest sounds to mix with their killer grooves. They are a modern funk ensemble complete with go-go drums, spaced-out synths and bouncy basslines. Nasty funk breaks surround this nice EP as the pair get ready to release a full length album, Jack of All Trades in April.
The Rhythm and FX EP features three new, original tracks and one remix by the Funkanomics from the south of Germany. The EP gets things kicking right away with the title track, revealing some nice programmed drum breaks and Nu Disco. This intergalactic, synthesized sci-fi funk will get the dance floors shaking from New York to Tokyo. All Good Funk Alliance's instrumental dance grooves can slip nicely into any crate and can be unleashed as a secret weapon on any audience. The duo are currently on a Western U.S. tour throughout March. They will be joined by the Fort Knox Five and Thunderball, who will feature a 4 turntable DJ setup, for most of the dates. Make sure you have a listen to the Rhythm and FX EP above, and you can follow the links to purchase the music on Beatport. All Good Funk Alliance also released a new song entitled "Me and My Crew" which you can listen to on soundcloud.