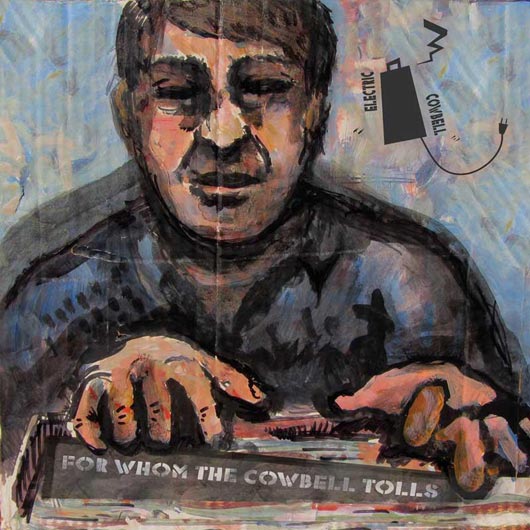 Spanglish Fly vs. The Audible Doctor – "Audible Soul"
For Whom the Cowbell Tolls
Electric Cowbell Records have decided to throw their hat in the ring for this round of Record Store Day releases, due to hit the shelves on April 21st. Their latest compilation, For Whom the Cowbell Tolls, is the followup to their excellent first collection, 101 Things to Do in Bongolia. The Village Voice gushed, "Electric Cowbell is Brooklyn's hardest-working new label." It's hard to disagree with them. Their constant dedication to 7″ 45rpm vinyl is a pleasure to witness. With a dynamic and growing roster of artists who are committed to the preservation of singles, Electric Cowbell has a great future ahead of them. For Whom the Cowbell Tolls is a terrific CD accompaniment to those 7″ releases and a great introduction to the label for those who haven't been exposed to the good music Electric Cowbell is known for.
For Whom the Cowbell Tolls contains many of Electric Cowbell's recent singles as well as some bonus remixes, such as Spanglish Fly vs. The Audible Doctor's "Audible Soul" featured above. There are familiar favorites such as Debo Band, Spanglish Fly, The Sway Machinery and Khaira Arby, as well as some new names like Karthala 72, Os Magrelos, No! BS Brass Band, Cheick Hamala Diabaté, Little Shalimar and Polythythmics. With a total of 18 tracks, you can't go wrong with this amazing set from Electric Cowbell Records. Be sure to check out the track list and pick up your copy on Record Store Day, April 21st. Don't forget about the new Super Hi-Fi / Polyrhythmics 7″ featuring "We Will Begin Again" b/w "Pink Wasabi" and CSC Funk Band's 7″ featuring "A Little Weight" b/w "A Little Planet," which will also be released on Record Store Day. Advanced copies are available at the Electric Cowbell Records store. We've reviewed a number of Electric Cowbell singles in recent months, with many of the songs featured on this compilation, so check out our list of features below.
Electric Cowbell Records 7″ Reviews

CSC Funk Band – "A Little Weight" review
Polyrhythmics – "Pink Wasabi" review
Super Hi-Fi – "We Will Begin Again" review
Spanglish Fly – "Me Gusta Mi Bicicleta" review
Super Hi-Fi – "Single Payer" review
Cheick Hamala Diabaté – "Tagamba" review
The Sway Machinery & Khaira Arby – "Youba" review