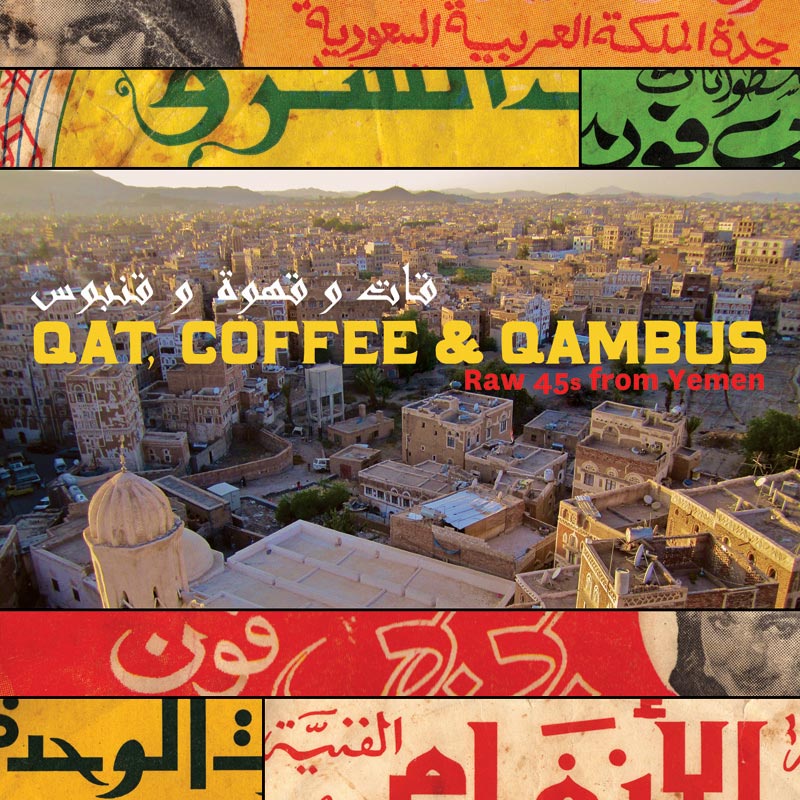 Dust-to-Digital continues to expand our musical horizons with a dynamic collection featuring Yemeni 45rpm vinyl singles from the 1960s and 1970s. If you live in the Western Hemisphere, chances are you haven't heard a lot of music from Yemen. Compiled by Chris Menist, who runs the Originalpress365 blog, Qat, Coffee & Qambus: Raw 45s from Yemen, features nine stunning tracks from different artists.
When Menist arrived in Sana'a (Yemen's capital city) in 2010, he went on a hunt for record shops. Unfortunately, he didn't find any but discovered that records are treated as 'artifacts' and were typically tucked away in antique shops. With his friend Salim Ali in tow, Menist found plenty of dusty vinyl gems on his travels.
The qambus is a stringed lute unique to Yemen, which often accompanies sung poetry (homayni). While it eventually fell in popularity to the oud, the poetry it was paired with has lived on for generations. The poetic phrasing, combined with percussion and oud is very rhythmic. While Yemen is bordered by Oman and Saudi Arabia, the music is stylistically more aligned with the sounds of the East African coast. These 45s served as a form of entertainment often enjoyed at home and accompanied by the chewing of qat, a green leaved plant that produces a mild stimulant. People would sit and chew for hours as they listened to music and engaged in discussion.
These driving love songs translate well into any language. The voices are on center stage as the singers cast their spell on listeners with their tales of romance and woe. The sound of passionate vocals mixed with stirring percussion, like the sahn suhasi (a copper tray that sits on the fingertips), make for an engaging, bare-bones listen. There are striking similarities to American Blues 78s, but that doesn't honor how unique this music is. Yemen managed to hold on to their own musical identity over the years and it's easy to hear on this set. Accompanied by extensive liner notes by Menist, Qat, Coffee & Qambus: Raw 45s from Yemen is a comprehensive look at a relatively unknown music scene that deserves a lot more attention.
TRACKLIST
01. Fatimah Al-Zaelaeyah – Ya Mun Dakhal Bahr Al-Hawa (Hey, Who Enters the Sea of Passion?)
02. Ahmed Al Sonaidar – Raee Al-Gamel (The Owner Of Beauty)
03. Bolbol Al-Hejaz and Soni Ahmad – Mushtaq (I'm Yearning)
04. Ayob Absi – Bellah Alek Wa Mosafer (Hey You, Passenger!)
05. Mohammed Ben Mohammed Ba-Soweid – Marhaban Ahlan (Hello, Welcome)
06. Amna Hizam – Haya Abu-Saif (Welcome Saif's Father)
07. Raja Ali – Hom Bel Hawa Ya Nas Walaoni (They Made Me Fond Of Love)
08. Mohammed Hamood Al-Awami – Wahed Mozawag (A Married Person)
09. Ahmad Al-Haraz – Amsi Sameer Al-Nojoom (Night Stars Watcher)