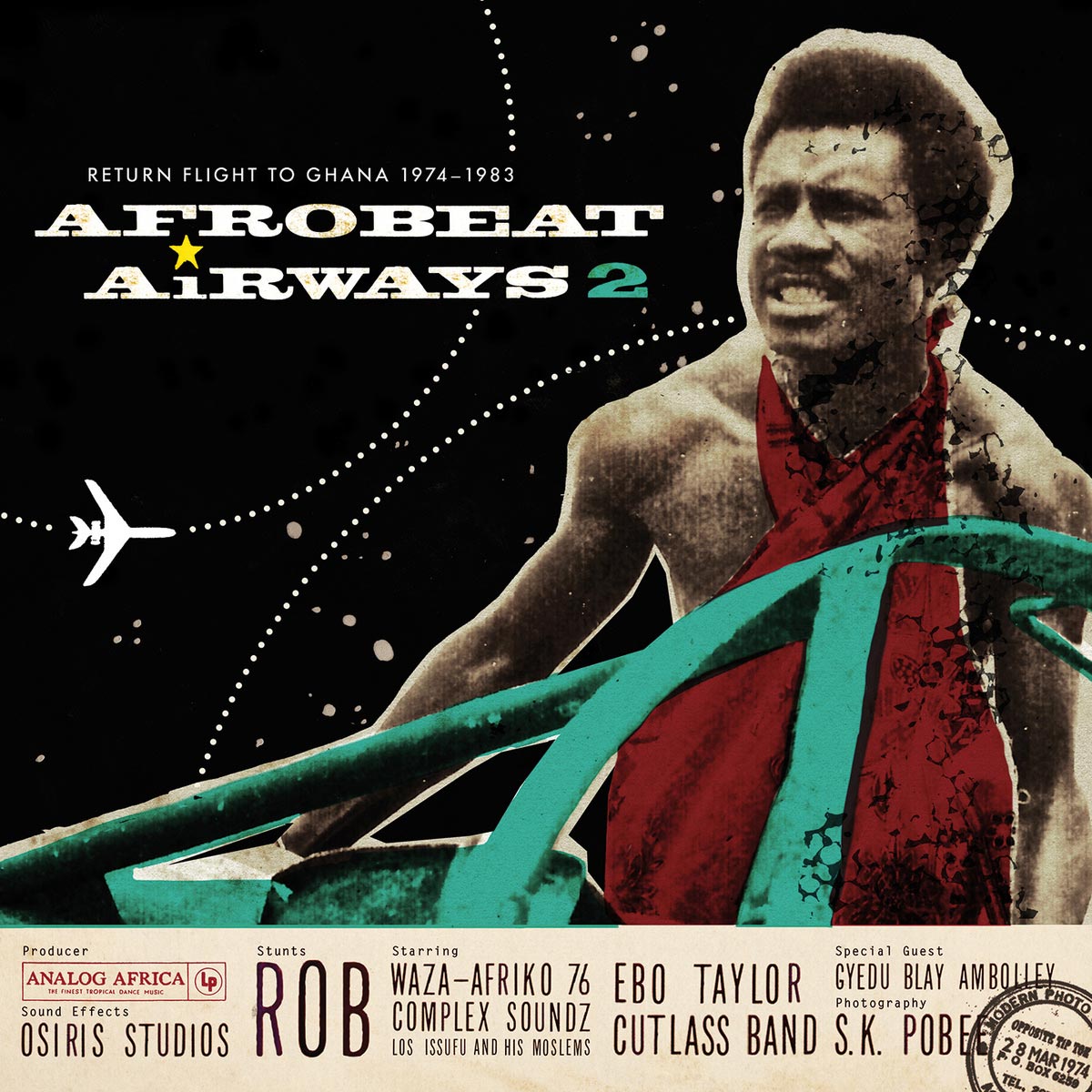 The international appreciation for Afrobeat continues to grow as more and more of it is unearthed. For most, Afrobeat is synonymous with Fela Kuti and 1970s Nigeria, but the roots of Afrobeat rest in highlife, which originated in Ghana at the turn of the 20th century. Fela was playing highlife jazz when Sierra Leonean Geraldo Pino travelled to Nigeria in the 1960s and sent shockwaves across the dancefloors of Lagos. With his infectious style of heavy, James Brown influenced soul music, Pino had crowds at his mercy. Fela witnessed Pino's performance and marvelled at his energetic sound as well as the professional equipment the band had. The soul driven funk blend Fela heard that night became the popular sound in Ghana, where the nightclubs were packed night after night.
Analog Africa explores the golden years of Afrobeat in Ghana on Afrobeat Airways 2: Return Flight to Ghana 1974-1983. The first disc in this series, Afro-Beat Airways featured music from Ghana and Togo from 1972-1979. This time around, Samy Ben Redjeb, founder of Analog Africa, realized there was more than enough material for a second compilation entirely focused on Ghanaian Afrobeat. Uppers International, Ebo Taylor, De Frank, The African Brothers, Rob, K. Frimpong and Gyedu-Blay Ambolley are just a handful of the seminal artists who appear on Afrobeat Airways 2.
This compelling set is driven by infectious basslines, warbly keyboards, fuzzy guitars and tight rhythms. It successfully captures the heydey of Ghanian artists exploring the diversity of Afrobeat while transforming their own highlife sounds into a grittier, more soul-drenched variety. Analog Africa is known for their liner notes and Afrobeat Airways 2 doesn't disappoint. The accompanying 44-page booklet contains extensive information about the development of soul, funk and Afrobeat in Ghana during the 1960s and 1970s through interviews and biographies of the artists and producers, as well as an introductory essay from Afropop Worldwide editor Banning Eyre. The notes are also packed with photos from the Modern Photo studios, located at the front of Tip Toe, Accra's famous venue known for their legendary "Miss Tip Toe" contests. Afrobeat Airways 2 is a complete package that chronicles a unique and underappreciated music scene. One listen and you'll wonder why this music isn't still on the dancefloor.
Originally published in RootsWorld Magazine.