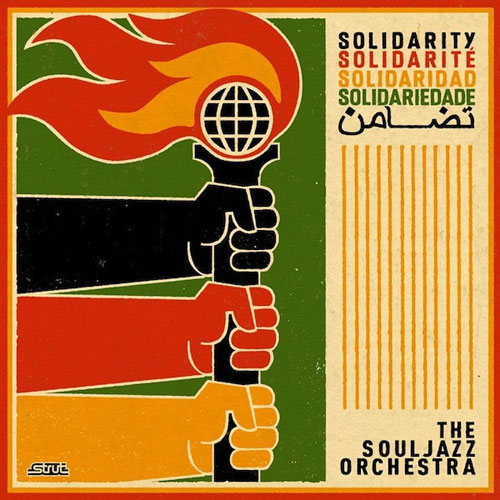 Known as Canada's hardest working super-group, The Souljazz Orchestra is back with a new record September 18th on Strut Records. Coming off the successful, all-acoustic & instrumental Rising Sun, the band return with a set of gritty electric grooves on Solidarity, a collaborative album that brings out the best of Canada's underground scene. The Ottawa-based band dug out some attic treasures for this record including: an ancient vibrato-heavy transistor organ, pawn shop hollow-body electric guitars, a warbling psychedelic tape-echo machine, a cavernous surf-guitar spring reverb unit, even an old Italian-made Elka electric piano rescued from a garbage can. All of these great sounds were recorded with an old Tascam 8-track machine which was inherited from the Royal Canadian Mounted Police at a surplus sale. The result is an incredibly authentic recording that tricks the ear into thinking this is some lost 1970s gem. The sound is full and dirty, perfect for an album full of bright horns and dense percussion. Unified by a message of social change, The Souljazz Orchestra plays a diverse mix of Afro, Latin and Caribbean styles tied together by an appreciation for North American soul and jazz.
Joining The Souljazz Orchestra on Solidarity is singer, percussionist and songwriter El Hadji "Élage" M'baye, originally from Saint-Louis off the coast of Senegal, now resident in Gatineau, Québec; singer, songwriter and guitarist Rômmel Teixeira Ribeiro, hailing from São Luís in North-Eastern Brazil, now living in downtown Ottawa; vocalist and songwriter Slim Moore, born in Overbrook, Ontario to Jamaican parents; jazz trumpeter Nicholas Dyson; and Amelia Leclair on backing vocals.
Watch the video for "Bibinay," a scorching, infectious Afrobeat groove. The video is entirely comprised of public domain footage, as is the video for "Ya Basta." Both are well worth watching. You can also download "Cartão Postal," courtesy of Strut Records, on soundcloud. Get out there to see Souljazz Orchestra on their extensive fall tour which takes them to 11 different countries and 9 different states across Europe and North America, from New York to London, Paris to Montréal, Chicago to Athens, Amsterdam to Detroit, including South Bohemia! They play Webster Hall with Zongo Junction on November 30th. Check out the tour schedule and catch the band when they come to your town.