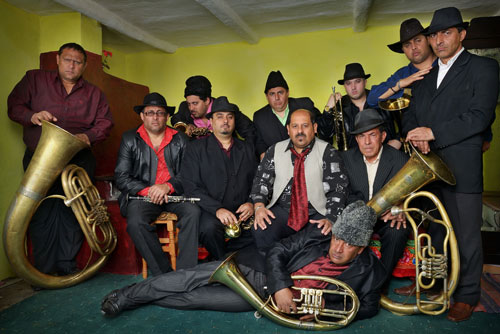 Fanfare Ciocărlia are one of the most important brass orchestras performing today. Hailing from the remote village of Zece Prăjini in northeastern Romania, Fanfare Ciocărlia (whose name translates to "lark's song" in English), delivers some of the fastest and funkiest Gypsy music the world has ever heard. Nestled in the misty valley of the Carpathian mountains, Zece Prăjini remained a "hidden" place during the spread of communism. The rural farming lifestyle of some eighty Gypsy families continues to be dictated by the changing seasons, and the ancient Ottoman tradition of live brass bands accompanying armies, weddings and funerals still exists today. Trumpeter Costic "Cimai" Trifan believes the isolation of Zece Prăjini makes it an ideal place to make music.
"Sometimes when I tell people I come from Zece Prăjini, they think I come from the end of the earth. But here, at the end of the earth, is the right place to make music." – Costic "Cimai" Trifan
In 1997 they conquered Europe with their legendary brass sound. Their complex and ferocious blasts impressed punks and jazz and funk fans, as well as world music aficionados and classical music lovers. Their incredible speed and technical mastery is unmatched. Continuing their world domination, Fanfare Ciocărlia toured the USA, Australia and Japan in 2001 and 2003 as part of the hugely successful Gypsy Caravan Tour. It's been nine years since they've played in North America and luckily for us they are returning this fall. Tour producer and New York Gypsy Festival founder Mehmet Dede believes it's about time they return.
"Fanfare Ciocărlia's wicked fast trumpets, tenor and baritone horns, tubas, clarinets, saxophones, bass drum and percussion from the Carpathian mountains are a sight and sound to behold. This tour is way overdue for the beloved Gypsy brass band tradition." – Mehmet Dede
Check out the tour schedule to see when they will be in your area. Fanfare Ciocărlia will be at the Schimmel Center for the Arts (PACE University) on Saturday, September 22nd. Watch a live performance of "Iag Bari" below and check out their DVD/CD Fanfare Ciocărlia – Live, out on Asphalt Tango Records, which features an entire live concert of the band on DVD & CD, a documentary about the band, Brass on Fire, and several music videos.