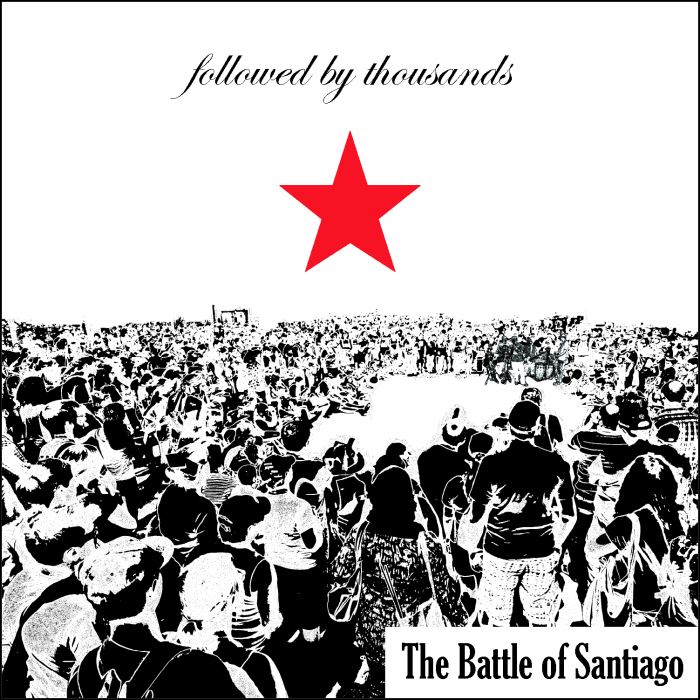 [soundcloud url="http://api.soundcloud.com/tracks/61581745″ params="show_artwork=false&show_comments=false" iframe="true" /]

The Battle of Santiago – "Republic"
Followed by Thousands
The bustling multicultural music scene in Toronto is full of surprises. The Battle of Santiago is an instrumental ensemble that combines influences from the African diaspora with rock and jazz to create an adventurous sound that switches directions at the drop of a hat. The group made a splash with their previous release Full Colours, which hit the top spot on many Canadian college markets on the International, Jazz and Top 30 charts. Now they're back with a new record, Followed by Thousands, on Made With Pencil Crayons Records and it's currently in the Top 10 on the earshot! National International Chart.
The Battle of Santiago has two components: a Latino contingent and a Canadian contingent. Venezuelan-born Joel Perez and Cuban-born and raised Reimundo Sosa both studied and performed percussion in their homelands at an early age and bring their strong sense of rhythm to each of The Battle of Santiago's grooves. Group founder and bassist Michael Owen rounds out the Anglo section with saxophonist/flautist Micheal Butler and guitarist/sonic manipulator Lyle Crilly. These two forces expand and contract at will, creating an exciting experience for the listener.
"Within The Battle of Santiago (TBOS) we have a Latino section and a Canadian section. Everyone comes with such a variety of experiences. That can create something of a battle within the group, I think that kind of energy or tension creates a really good environment. You can feel the push and pull." – Michael Owen
Followed by Thousands is "a record that helps define our sound and our direction," says Owen. The direction the band is headed in is one of expansion. Switching from Afrobeat to electronic influenced post-rock to dub may sound audacious, but The Battle of Santiago pull it off with ease, maintaining a rhythmic and ambient pulse throughout the record.
The ensemble is known for their enthralling performances which utilize video and lighting to great effect. Working with artist/designer Patricio Davila, the group mixes digital visual art, live musical performance and audience interaction to create a dynamic concert experience that leaves audiences clamoring for more. Listen to the Afrobeat influenced "Republic" above, which is available as a free download. Check out The Battle of Santiago's video for "En tu Cara" below.