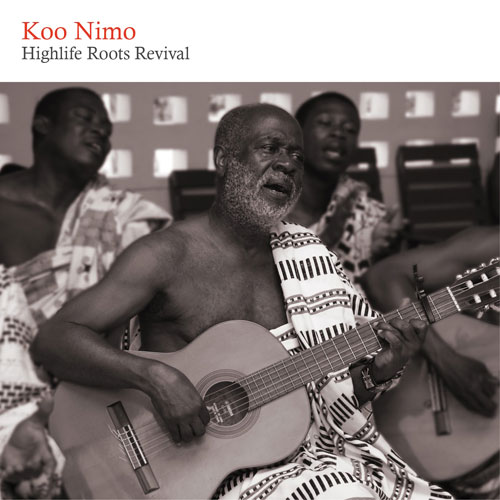 [soundcloud url="http://api.soundcloud.com/tracks/53000567″ params="show_artwork=false&show_comments=false" iframe="true" /]

Koo Nimo – "Old Man Plants a Coconut Tree"
Highlife Roots Revival
Koo Nimo was born in the Ashanti region of Ghana in 1934. Now approaching his eighties, the talented guitarist and storyteller decided to record a new album of palm-wine music in the garden of his home. The result is a timeless acoustic album entitled Highlife Roots Revival, which is out now on World Music Network. Palm-wine is an early roots version of highlife music. It dates back to the days when Portuguese sailors introduced guitars to West Africa. The name is derived from the drink enjoyed at social musical gatherings. This music has roots in Sierra Leone (where it's known as maringa) and Liberia. By combining local melodies and rhythms with Trinidadian calypso and soca music, palm-wine music left a lasting influence on highlife and soukous music.
Daniel "Koo Nimo" Amponsah has a fascinating history. He has been well respected for his gentle acoustic approach and versatile skill since he was in his twenties, around the same time Ghana gained its independence (1957). In the 1960s he moved to London to study science as he schooled himself in a wide range of musical styles, including Western classical music and flamenco. He is a jazz lover and holds a deep respect for Thelonious Monk, who personally presented Nimo with twenty-seven handwritten compositions when they met each other.
"I started my musical career the first day I was born. I sang my first song when I cried. A man is born as a self contained musical instrument." – Koo Nimo
Although Nimo is well-versed in many styles, he prefers to play palm-wine music, keeping an important tradition alive. On "Old Man Plants a Coconut Tree," featured above, the lyrics translate to, "Grandson, I know I won't live to see the fruits of my labour. Because of you, and children yet unborn, I am planting the coconut tree." Highlife Roots Revival features the relaxed guitar playing of Koo Nimo and marks the first time he has recorded with a large ensemble. Guitars, seprewa, traditional drums, percussion and an accompanying vocal group support Nimo's storytelling on a great acoustic roots record you can't afford to miss.