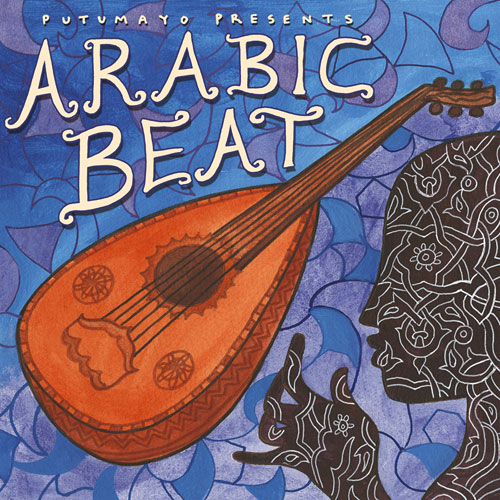 After the major success of Putumayo's Arabic Groove, the label spent three years putting together a new compilation of Middle Eastern and North African music entitled Arabic Beat which is available now on Putumayo World Music. This diverse collection focuses on Arabic artists who mix Western influences into their music. From the deep grooves of raï to the vibration of raqs sharki, Arabic Beat takes listeners on a journey across the Mediterranean. Zein Al-Jundi was a child star in Syria by the time she was five years old. The "Syrian Shirley Temple" left music to pursue a degree in architecture in the United States. But it was too late; the music bug bit hard and she decided to restart her musical career in Austin, Texas.
"An element that unites all the artists is the mix of Arabic music with Western influence. It's the authentic Arabic flavor, mixed with sounds and ideas from the West. It's a very solid Arabic pulse, with sprinkles of different flavors on top." – Zein Al-Jundi
Although many of the artists featured on Arabic Beat are well known in their native countries, some of them will be new to Western audiences. Most of them have been sharing their music on social media before MySpace was around. All of them have felt the pulse of the Arab Spring protests across the Middle East and North Africa. While many of the musicians sing about love and good times, others focus on spreading the word about domestic and international issues, from immigration to independence. Whether they use pop, hip-hop, electronica, rock or soul to convey their message, the roots of all these compositions are embedded in the Arab world.
Stream Arabic Beat above or at Putumayo's bandcamp page to get a taste for the album. Listen to the dense groove of Ali Slimani's "Lirah (Remix)" or the rocking Berber sound of Jalal El Hamdaoui's "Sidi H'bibi." Watcha Clan offers slow, swaying funk on "Osfour," a version of a song made popular by Lebanese poet and oud master Marcel Khalife. The Choubène brothers, the sons of the legendary Algerian singer Abdelouahab Chouder, lay down traditional rhythms mixed with pop, funk and reggae on "Raï Mtelefni." The antiquated policies of the Middle East and North Africa are shifting towards freedom and liberation, so check out the new sounds of the Arabic world on Arabic Beat.
TRACKLIST
Djamel Laroussi – "Kifach Hilti" – (Algeria/Germany)
Ali Slimani – "Lirah (Remix)" – (Algeria/UK)
Nour – "Narbat" – (Spain/Algeria/France/Morocco)
Jalal El Hamdaoui – "Sidi H'bibi" – (Morocco/Belgium)
Samira Saeid – "Saab Alyia" – (Morocco)
Watcha Clan – "Osfour" – (Algeria/France)
Ahmed Soultan – "Itim" – (Morocco)
Choubène – "Rai Mtelefni" – (Algeria/France)
Zein Al-Jundi – "Ajmal Gharam" – (Syria)
Cheb Amar – "Lala Torkia" – (Morocco/France)