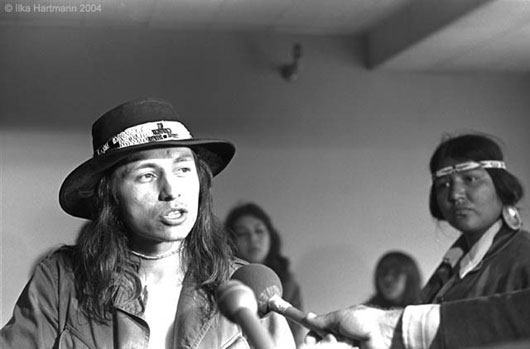 John Trudell was born in Omaha in 1946. He is the son of of a Santee Sioux father and a Mexica Indian mother. John grew up in small towns near the Santee Sioux Reservation where he was raised in Santee Sioux culture. In 1969, he became the spokesperson for the United Indians of All Tribes' occupation of Alcatraz Island. He used his background in broadcasting and ran a radio station from the island through a cooperative arrangement with students at the University of California, Berkeley, broadcasting at night over the Berkley FM station. The show was called Radio Free Alcatraz. He discussed the cause of the occupation and American Indian issues, and played traditional Native American music. After Alcatraz, he became the national chairmen of the American Indian Movement from 1973 until 1979. Hours after he burned an American flag in protest on the steps of the FBI headquarters in Washington, D.C., Trudell's pregnant wife, three children and mother-in-law were killed in a suspicious house fire on a Nevada reservation. A BIA police investigation claimed that it was accidental, but Trudell suspects the fire was arson.
John left the public eye for a while to cope with his massive loss, finally returning with his writing. "About six months after the fire…these lines came into my head and something told me to write them down and not stop writing them," said Trudell. "They're called poems but in reality they're lines given to me to hang on to." He got in touch with Jackson Browne and became inspired to enter the music world. He put together Tribal Voice in 1983 which featured Trudell's poetry over American Indian chants and songs. In 1986 he got together with Jesse Ed Davis, a Kiowa Indian, to record AKA Graffiti Man. Jesse was a session guitarist who played with many different artists including John Lennon, George Harrison, Taj Mahal, Gene Clark, Eric Clapton, Leonard Cohen and many others. When Jesse got together with John Trudell their creativity was a perfect match. He heard what John was doing with his poetry and told him he could write music for his words. Jesse himself was a very accomplished guitarist who could rock with the best of them. Unfortunately, Jesse passed away in 1988 from a heroin overdose.
"The poison and pollution in our environment affects how clearly we see things. We need to use our intelligence and organize our consciousness and our perceptions of reality. This is hard work, but it must be done. We are in an evolutionary reality. We are never given something we can't handle. It's about activating the thinking process, about the real value of our ability to think. I say don't believe anything the corporations hand us, whether it is TV, ads or the news as they tell us it is. I am a human, a member of a tribe, not a subject for corporate mining and exploitation. I don't trust their corporate 'democracy.' We humans must think for ourselves. That's what we need to give to the next generation." – John Trudell
John's latest offering is with Bad Dog and is entitled Crazier Than Hell. 17 new and old songs continue the thread of love, life, reality and responsibility that runs through all of Trudell's presentations. Rocking, bluesy, psychedelic tunes flow naturally and coherently from start to finish. This is Trudell and Bad Dog's most important work to date. Enjoy "Too Much Sky" taken from Crazier Than Hell below. To learn more about this incredible human being, I highly recommend watching the Trudell Documentary.