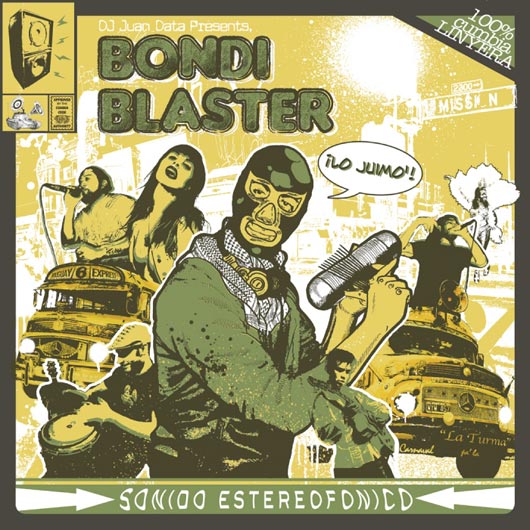 [soundcloud url="http://api.soundcloud.com/tracks/33008438″ params="auto_play=false&show_artwork=false&show_comments=false" iframe="true" /]

Bondi Blaster – "Boliguay Express" (feat. Gabriel Navia)
¡Lo' Juimo!
DJ Juan Data is presenting a new EP entitled ¡Lo' Juimo! on March 6th. His latest release is on Stronghold Sound and features his collaborator Dub Snakkr in a collective dubbed Bondi Blaster. Besides the two members of the group, ¡Lo' Juimo! features a number of guests including Tami, Gabriel Navia, Ephniko, Nes, Michael Parsons and Pablo Freakman. The EP is constructed as 'cumbia linyera' (linyera is Argentine vernacular for garbage pickers). Juan Data and Dub Snakkr piece together influences from cumbia to rap, electronica to Brazilian pop, funk to Andean folk and everything in between. Mixing a punk attitude with the cut and paste traditions of hip hop culture, Bondi Blaster takes the experience of riding through a city and translates it into music. In fact, Bondi is Argentine slang for bus. Urban buses are an important accessory for cumbia and their collage of music and noise is revealed on this EP.
The title ¡Lo' Juimo! references the classic Colombian cumbia album by Corraleros del Majagual, ¡Nos Fuimos! (meaning let's go!). The EP starts out with a nice introduction to Bondi Blaster's style with "Larvasaurio's Revenge," featuring Juan Data spinning at a party with commentary from an Argentine partygoer (portrayed by Pablo Freakman) who pesters the DJ, asking why he is playing cumbia and demands some rock 'n' roll instead. "Salchichón Primavera" features LA-based Argentine diva Tami on vocals, over an instrumental track from DJ Juan Data and Dub Snakkr. "Alta Farra" features of the most impressive vocalizations on the EP. Juan Data throws down three verses plus the chorus using exclusively words with the letter A. This intricate rap mixes well with the Andean-folk background provided by Gabriel Navia. The single, "Cumbia Nena" (feat. Ephniko & Nes) is a strong number with heavy dub bass laid over a nice cumbia and pushed to 11 with three MCs, one each from Colombia, Mexico and Argentina, representing their cumbia traditions. The final track saves some of the best for last. "Boliguay Express" features Peruvian psychedelic cumbia (chicha) over a funky beat with touches of Argentine tango. The song is an ode to bus traveling through South America (Boliguay is used in Argentina referring to both Bolivia and Paraguay as one thing) with added on vocals by Juan Data and Gabriel Navia (from Bolivia) impersonating peddlers and bus drivers doing their announcements.
This fine EP is just a taste of what Bondi Blaster has to offer. Juan Data's witchdoctor approach is evident all over this release. The duo expand upon the cumbia sound and their cumbia linyera is a refreshing reminder of the depth that cumbia has to offer when it isn't commercially restrained. Keep up to date with DJ Juan Data at his website and his facebook page.