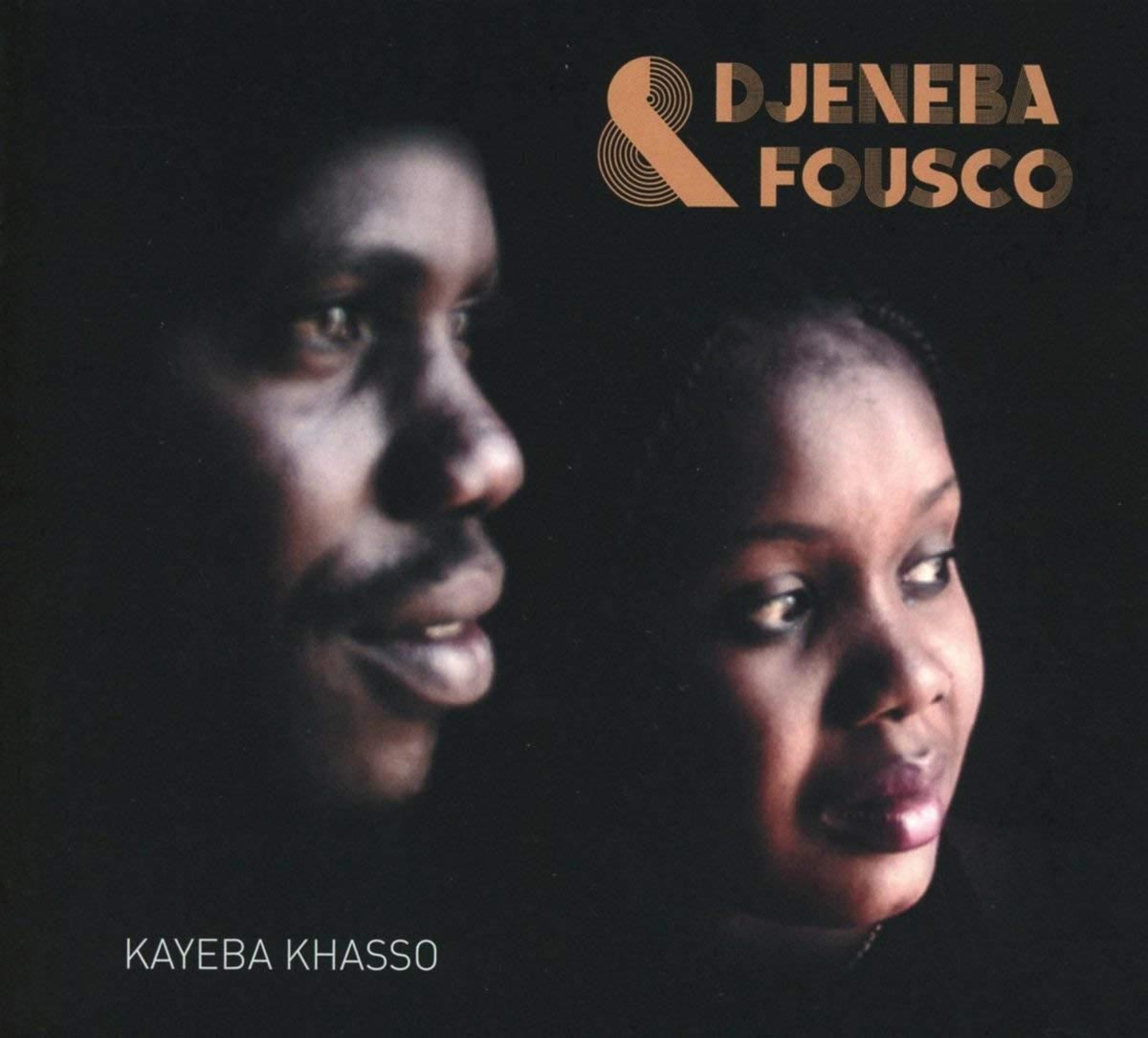 Djénéba Kouyaté and Fousseyni 'Fousco' Sissoko both hail from the Kayes region of Mali. The married couple struck up a musical alliance after Djénéba became a sensation on the national TV talent contest Tounkagouna. With her dynamic voice she carries on the long-standing tradition of her griot family. Fousco is a distinguished guitarist, vocalist and songwriter who first learned his craft from his father, a composer and arranger himself. Djénéba and Fousco proudly sing for their Kayes homeland and present an ensemble that respects traditional music while adding nice contemporary touches on their debut international release Kayeba Khasso.
The album opens with "Regrets," an excellent introduction to the seductive power of this group. Djénéba and Fousco sing over a beautiful arrangement of Ballaké Sissoko's kora, acoustic and electric guitar and percussion while Valentin Ceccaldi ties the emotions of the piece together with his impressive, textured cello arrangement. Ceccaldi's wide array of cello techniques is one of the most unique aspects of this recording. From plucked basslines to wailing solos, the cello is a central instrument on this album and the ambiance it creates adds plenty of atmosphere to the compositions.
"Kono" shifts directions dramatically with a tight, reggae groove that features a funky bassline, tight popping electric guitar and some terrific trading of vocals between Djénéba and Fousco. The piece slows in the middle and the cello provides a haunting arrangement which supports Djénéba's soaring vocals. The song kicks back into gear with a wild guitar solo that leads to a punctuated finish.
The pace slows on the title track "Kayeba Khasso," a longing, reflective song about their homeland. Acoustic guitar, accordion and percussion set the atmosphere for Djénéba and Fousco to deliver a tender vocal performance. The searing cello solo draws on the heartache felt in the piece.
"Riche" is an uptempo gem that features some great work from Yacouba Koné on electric guitar and Marcel Balboné on drums. The pair trade vocals, but Djénéba is in total control on this track and guides the ensemble through a tight, memorable arrangement.
Cello and electric guitar drive "Miniamba" with some nice additional support from Fred Soul on percussion and Alex Nkuin on drums. Here Djénéba fully demonstrates her tremendous power as a vocalist and leader. As the song builds her vocals lift the entire group as she sings her heart out in one of the most powerful statements on the album.
The laid back approach of "Djeliyaba" offers a nice segue from "Miniamba." Fousco delivers strong vocal phrases over a sweet cello arrangement with fitting ambient percussion and electric guitars. Djénéba joins in later and again showcases her explosive vocal ability.
"Hakilima" is a rocking track with electric guitars, organ and drums. The punchy arrangement offers some fine vocals from Djénéba and acts as a nice bridge to the enticing "Fousco et Djeneba." Here the pair sing in harmony over a slightly ominous cello arrangement. Electric guitars, a droning bassline and talking drums lay down the foundation for a spacious bit of desert blues.
With "Yiriyoro," Djénéba and Fousco offer a tender song with a lush palette of vocal harmonies to close the album. This talented duo are adventurous and resourceful. Their ensemble is as strong as the songwriting which is delivered passionately by two of Mali's finest voices. Kayeba Khasso is a strong record from start to finish that reflects the connection these two share with their music and their community.
Originally published in RootsWorld Magazine.