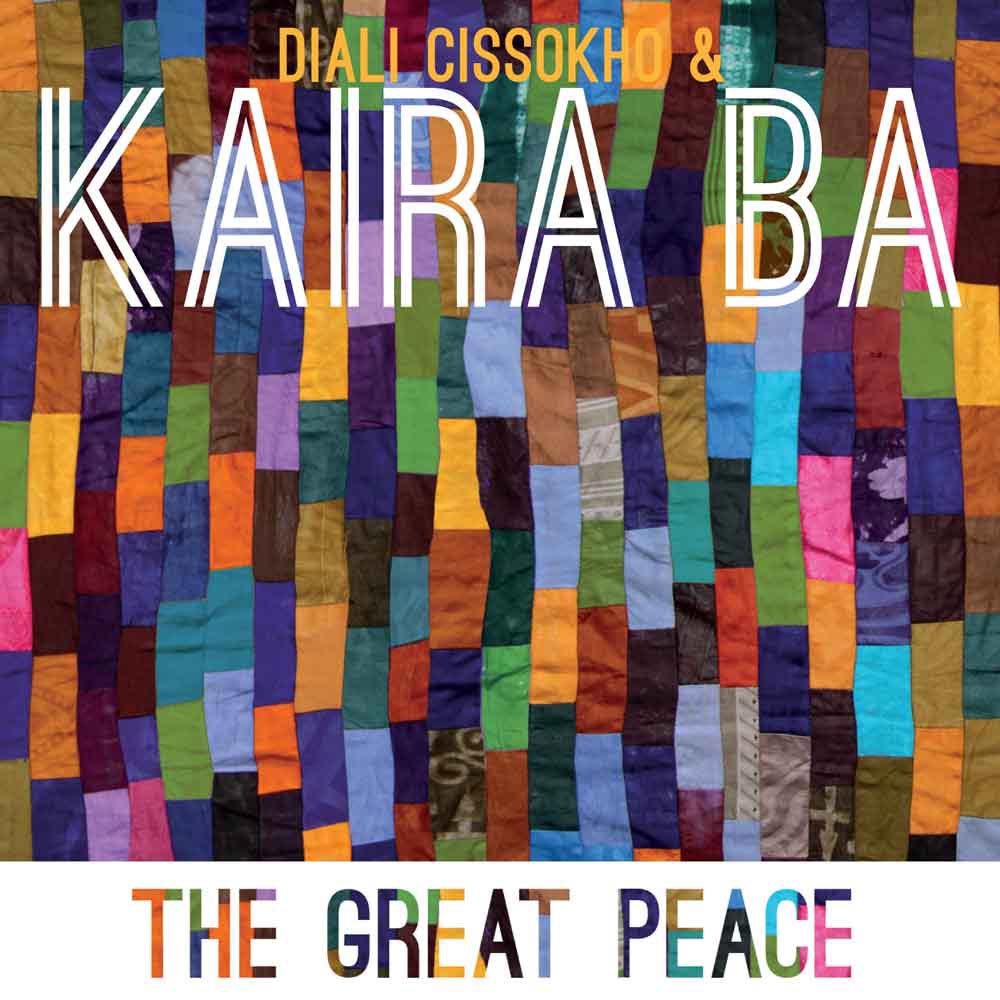 Diali Keba Cissokho is a kora-playing griot who was born in Senegal to a family of musicians. Thirty-one of his grandfathers played the 21 or 22-stringed bridge-harp before him, laying down an extensive legacy on the instrument. Cissokho's own instruction began at the age of five with his father where he explored the Mandika culture of his ancestors. Today he calls North Carolina home where he plays with his band, Kaira Ba, infusing West African music with rock, funk, soul and other sounds from the African diaspora. "Kaira Ba" is a Mandika phrase which translates to "the great peace" and serves as the title of their latest release.
The colorful patchwork of the album art for The Great Peace reinforces the central theme of peace, unification and compassion found throughout the record. On most tracks Cissokho's kora and expressive singing voice take center stage with electric guitar, bass, drum kit and percussion. The abundance of drumming on this album serves as it's driving force. The band features two percussionists utilizing a variety of drums including dunduns, djembe, sabar, congas, sabar and thiol. When combined with Cissokho's kora playing and John Westmoreland's fast guitar picking, the results are emphatic. "Mbolo" offers all of this plus a tight horn section and the serene backing vocals of Hilary Stewart Cissokho. "Mbolo" translates to "unity" and calls for everyone to work together to achieve their goals despite coming from different backgrounds.
"Alanole" is one of the most unique songs on the album. It's based on an old Mande composition entitled "Keme Burama." While the original version tells the story of Guinean general Almami Samory Touré, this adaptation revolves around Cissoko's late brother Khewsou. Jim Westmoreland and Gabriel Pelli's violin playing gives this track a haunting sound enhanced by Hilary Stewart Cissokho's beautiful backing vocals.
In contrast, "Al Hadji" is an upbeat homage to Cissokho's younger brother Al Hadji who passed away at the age of 23. The track begins with a dash of reflective solo guitar before kicking into a soulful tribute filled with punchy horns.
"Bamba Wotena" and "Balla Gueye" are the most up-tempo cuts on the record. "Bamba Wotena" starts slowly before it charges forward with some quick kora and warm organ. "Balla Gueye" is a percussive-driven piece that refuses to quit. The horn section adds texture to both tracks, playing off syncopated beats to great effect.
The Great Peace is a mature effort that reveals the full dynamic sound of Kaira Ba. The band sounds capable of anything and their intuitive playing offers a great platform for Diali Cissokho to build on. His strained vocals and propulsive kora playing add passion to these energetic compositions. The enthusiasm of this release makes for a rewarding listening experience. The liner notes include short descriptions of each song with interesting background information.
Originally published in RootsWorld Magazine.