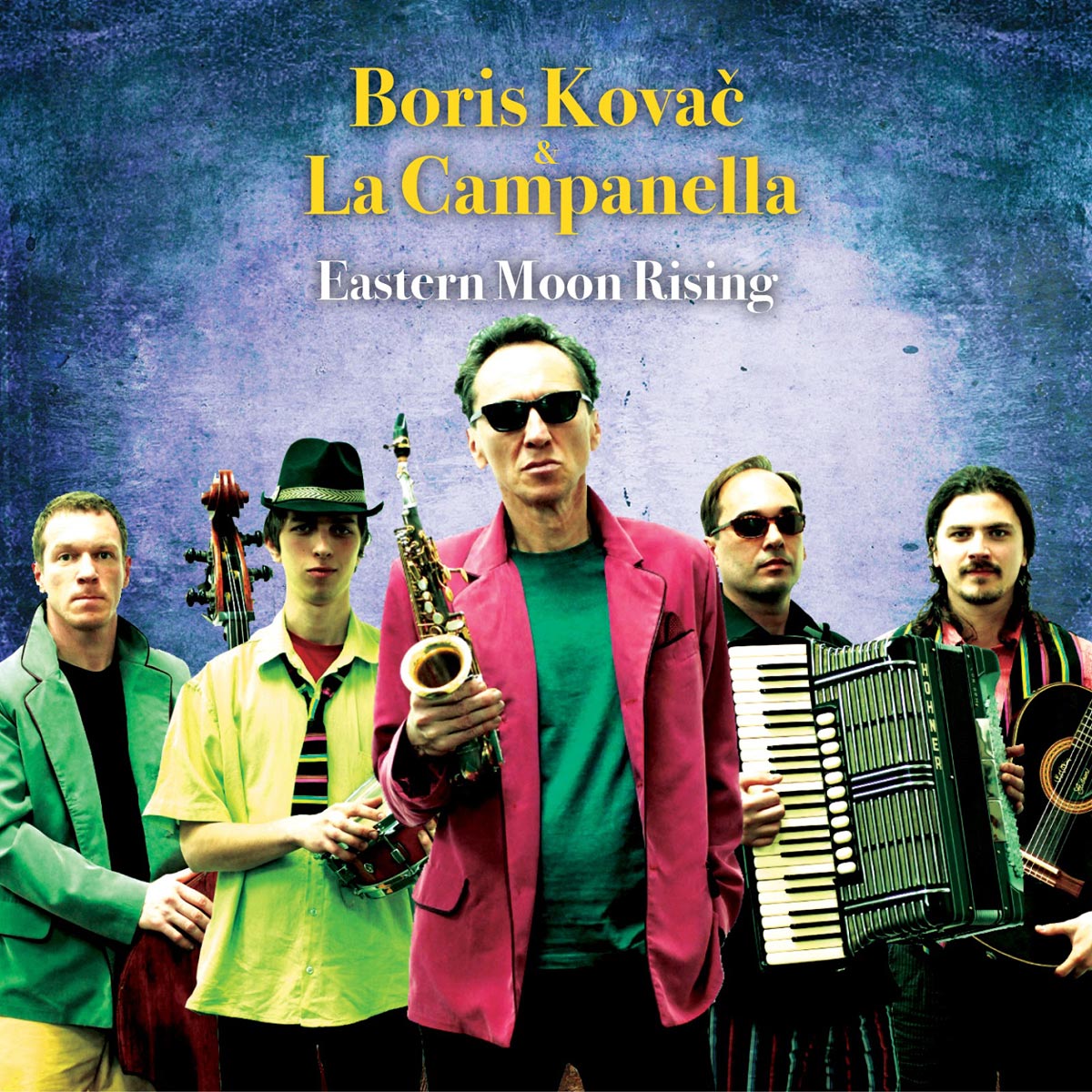 Boris Kovač explores the possibilities of Eastern and Western jazz with his band La Campanella on Eastern Moon Rising. Hints of European folk music and Balkan beats meet tango and the beguine on a mostly instrumental record shrouded in mystery. Kovač grew up in Novi Sad, an ethnically diverse region of Serbia, and has lived abroad in Italy, Slovenia and Austria. He enjoys working as a musician, composer, multimedia artist and theater collaborator. His theatrical flair is evident on the album cover, which features Kovač standing in the middle of a group portrait wearing a bright pink jacket and dark sunglasses. He holds his saxophone by the bell in one hand as he stares at the camera surrounded by his bandmates who join him wearing loud, eccentric clothing.
This mixture of styles results in an intriguing record that sounds modern yet retains a dreamy jazz age tone. An air of suspense and melancholy surrounds these dynamic compositions and there is no doubt Kovač's work in the theater influences his dramatic vision for each song. These tracks could easily creep their way into a film, twisting and turning a scene with an undercurrent of tension.
While the musicians improvise passages and solos, this is not a free-for-all album. Kovač's soprano and alto saxophone playing is mostly selective and restrained until the intensity builds and his horn wails onto the scene. He is complemented by Miloš Matić on double bass, Vukašin Mišković on guitars, Lav Kovač on drums and Goran Penić on accordion and sampler.The group's brand of saxophone driven tango is prominently featured on Eastern Moon Rising. The accordion typically slots in alongside Kovač's sax, often harmonizing or joining in call and response passages. Acoustic guitar usually gives way to electric when the band switches meter and tempo. Many songs start slowly until they break into quick flurries of intensity before dropping back to a languid pace.
Eastern Moon Rising may carry a somber tone, but that's not to say it's all serious business. The one vocal track, "Entertain You," stars Boris Kovač as a smoky lounge singer with a deep, raspy voice. The fun lyrics are supplemented by an enthusiastic chorus from the band, revealing a bright sense of humor. This original record gets under your skin and reveals its depth with each listen.
Originally published in RootsWorld Magazine.