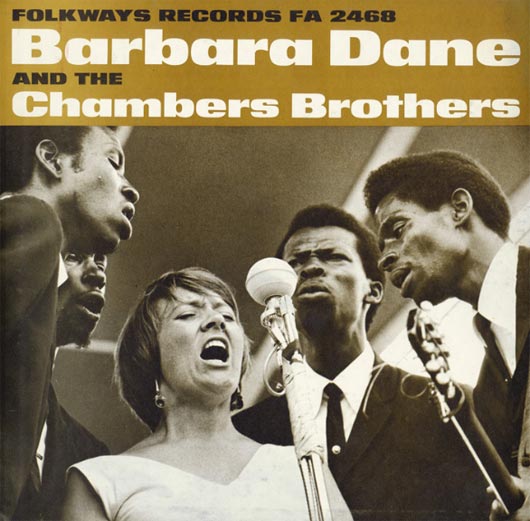 Back in 1964, Malvina Reynolds wrote an important song entitled "It Isn't Nice." Malvina grew up a shy child, but she was aware of the world around her. Her parents were both socialists and strongly opposed the First World War. In fact, on the morning of her high school graduation, she was told by a friendly teacher that she and her cousin were to be refused their diplomas in front of everybody because of her parents' political views. As a child she would dream of performing on the stage, under bright lights. Eventually she became one of the strongest voices of her generation. Her no-nonsense attitude is exemplified in the opening lines of the liner notes for Barbara Dane and the Chambers Brothers:
"This album came together finally after a real
heap of obstacles were overcome. We wanted to
start it in late spring of 1964 when we were at the
Ash Grove together, with the song "It Isn't Nice",
but it seemed the record companies were afraid of
it. Even now, with all the top-forty-folk-rock protest
around, I think they still are because it offers
a program of action instead of the aimless complaining
so popular now." – Malvina Reynolds
This album came to fruition two years after the "Freedom Summer" of 1964, when civil rights activists concentrated their energy on registering black voters in the South. It explicitly addresses the political and social climate of the time. Barbara Dane does an excellent job on vocals and the backing of the Chambers Brothers is substantial. They are talented musicians and fine singers in their own right. "It Isn't Nice" contains a powerful message that cannot be denied:
They murdered folks in Alabama.
They shot Medgar in the back.
Did you say that wasn't proper?
Did you stand out on the track?
You were quiet just like mice
Now you say that we're not nice.
Well if that's freedom's price,
We don't mind, oh no no no,
We don't mind.
Even though the song is 48 years old, it is a timeless classic from an era when it was hard to get protest songs recorded because of nervy record company executives. But they did get recorded and a generation was inspired by words that moved people towards a greater good. Listen to "It Isn't Nice" above and learn more about this iconic recording at Smithsonian Folkways, where you can read the terrific liner notes penned by Barbara Dane herself. Harvard Square Library has a great article about Malvina Reynolds, written in part by her daughter, Nancy Schimmel. Here is "It Isn't Nice" which was written by Malvina Reynolds after taking part in a sit-in at the Palace Hotel in San Francisco, which was refusing to hire black people. This video features footage of Palestinians resisting Israeli occupation.