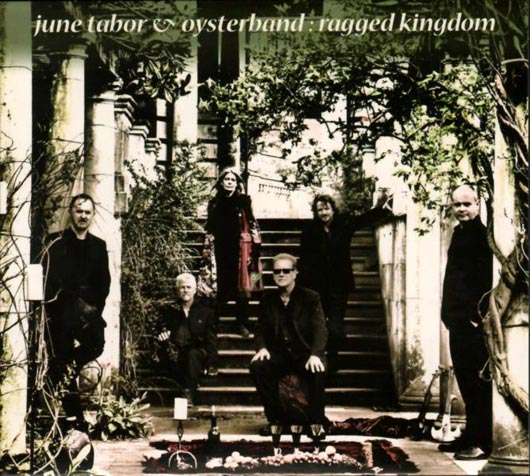 [soundcloud url="http://api.soundcloud.com/tracks/21574043″ params="show_artwork=false&show_comments=false" width="100%" height="166″ iframe="true" /]
June Tabor & Oysterband – "Bonny Bunch of Roses"
Ragged Kingdom
One of the most talked about albums of the past year, Ragged Kingdom, finds June Tabor & Oysterband coming together again for the first time since 1990's Freedom and Rain. At the time, their collaboration may have surprised some fans, but upon hearing the result many hailed the release, which has now become a contemporary classic. When it was announced that June Tabor would be teaming up with Oysterband again, people were a bit skeptical. Some feared the reunion wouldn't stack up to the original effort completed over 11 years ago. However, the skeptics have been put in their place as this record has blown fans and critics away.
"Most reunions or visitations to the past are doomed to failure and – invariably tackled for the wrong reasons – run the risk of tarnishing the reputation of the original. No such cynicism surfaces here as the relish, joy and mutual understanding clearly invested by all concerned contribute to an immaculate performance and presentation that surely surpasses even its celebrated predecessor." – BBC Music
Have a listen to the traditional song "Bonny Bunch of Roses" above. You can hear the intensity June Tabor brings to this record. This was her second album of 2011, as she released a solo effort, Ashore, earlier in the year. She pushes Oysterband to the fullest and the result is a deep understanding of musical harmony. Some other covers on the record include PJ Harvey's "That Was My Veil," Shel Silverstein's "The Hills of Shiloh," Dylan's "Seven Curses," and a haunting rendition of Joy Division's "Love Will Tear Us Apart." fRoots picked Ragged Kingdom as their 2011 Critic's Poll Winner for album of the year and it's easy to hear why.