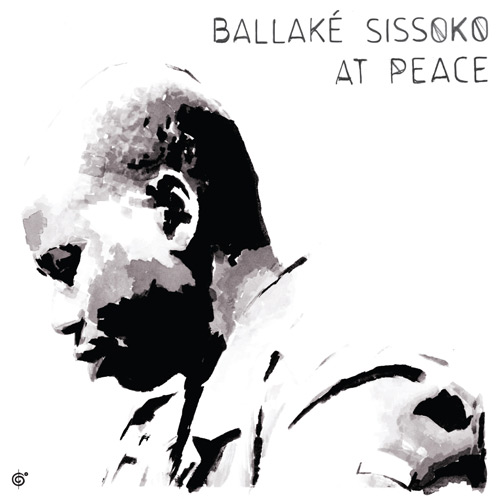 Ballaké Sissoko – "Badjourou"
At Peace
Ballaké Sissoko recorded the impressive Chamber Music with Vincent Segal back in 2009. Now the Malian kora maestro is celebrating the release of his latest album, At Peace, which is available on Six Degrees Records. Instead of doing a sequel to Chamber Music, Sissoko decided to work on the next chapter. "I didn't want to do Chamber Music all over again," says Sissoko, "I wanted to work on it's continuation."
Vincent Segal is back playing cello on a few tracks as well as overseeing production. The idea for At Peace was to record things intimately with only the bare necessity of studio tools. Sissoko and friends worked in Angouleme, France although one song, "N'tomikorobougou," was recorded in Sissoko's courtyard in Bamako. Since first takes were top priority, At Peace has a natural and relaxed sound that is warm and adventurous. The title of the record reflects the harmony Sissoko feels when working with these musicians.
"When I want to play with someone, I first have to understand the way he works. I have to build a friendship. That's my first reference point and it takes time to get there." – Ballaké Sissoko
The understanding between these friends has been steeping for some time. Vincent Segal performed over 200 concerts with Sissoko to support Chamber Music; an album which earned them the "Victoire de la Musique" (French Grammy award). Joining Sissoko and Segal is Aboubacar "Badian" Diabaté, who is renowned for his approach on twelve-string guitar. Moussa Diabaté and Fassary Diabaté also lend their skills on six-string guitar and balafon respectively to the tracks "Badjourou" and "Kalata Diata."
Ballaké Sissoko's immense talent shines on the unaccompanied kora pieces, where he showcases the depth of his instrument as well as the dexterity of his fingers. His ability to play several rhythms at once, backing himself with chords and arpeggios as he plucks melodies over the top, is uncanny. The songs Sissoko and Segal work on together are sensational as the two musicians share a clear sonic connection. Segal reveals plenty of range on the cello as he strums, picks, bows and taps his instrument to add lots of ambiance to the tracks.
For a taste, listen to "Badjourou" which features the entire ensemble. Check out a terrific kora improvisation Sissoko performed for La Blogothèque below. Don't miss the intimate Tiny Desk Concert with Sissoko and Segal hosted by NPR.