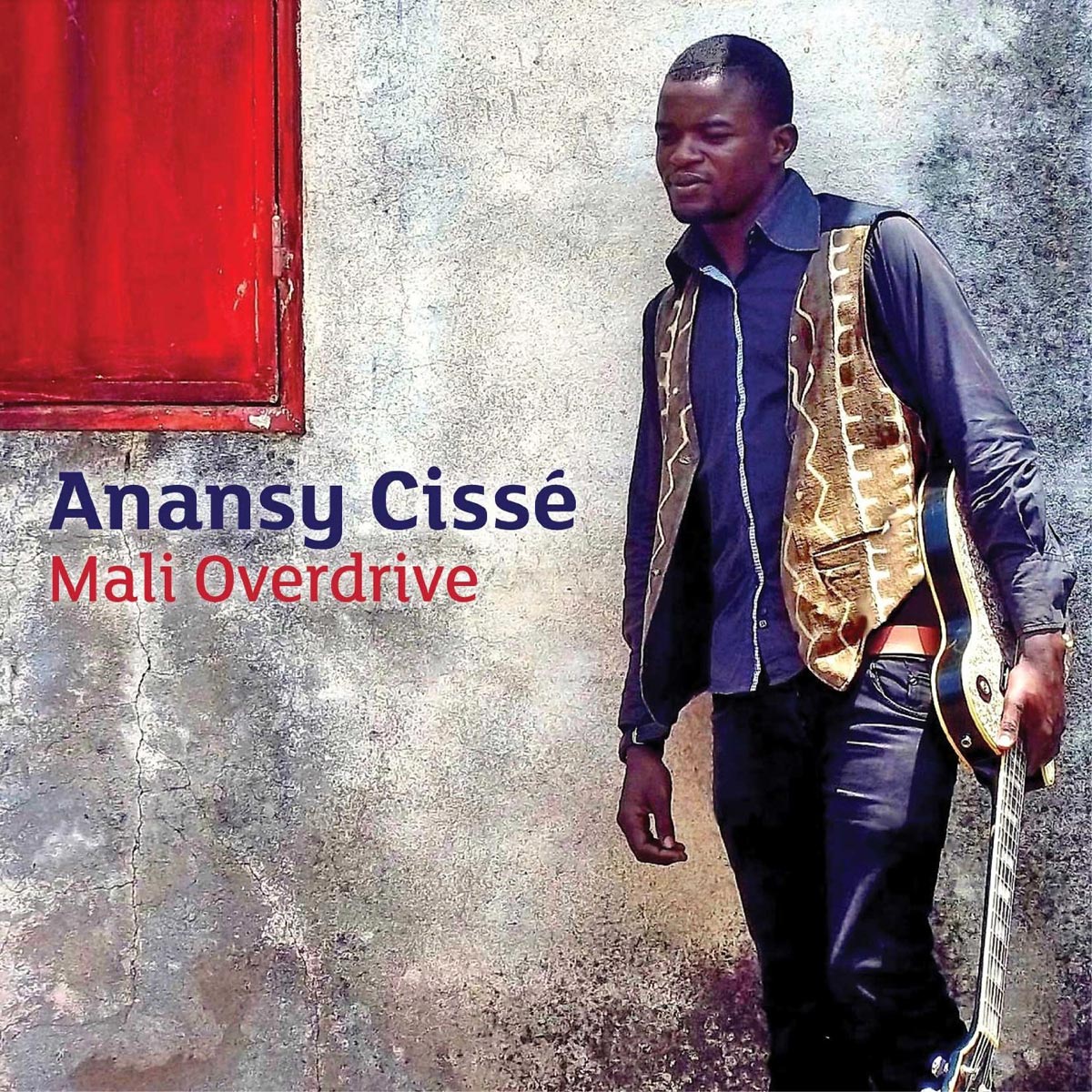 Anansy Cissé's debut release, Mali Overdrive, offers a fresh take on West African blues, where the young guitarist, vocalist and composer mixes both electric and acoustic in an interesting way. With an ensemble comprised of ngoni, bass, calabash, soku, acoustic guitar and percussion, Cissé sings clearly, floating over his heavily distorted electric guitar. Influenced by traditional Fulani and Songhai music as well as classic and psychedelic rock bands, his playing is simple but effective. Although the guitar often takes center stage, there is no mindless noodling or intense soloing on this album.
When Cissé was living in Diré, he recorded local artists, providing a studio and backing tracks for young musicians. After militant Islamists invaded Northern Mali, he was forced to move south to Bamako. While there, he ran into calabash player and percussionist Philippe Sanmiguel. The two struck up an acquaintance which lead to Sanmiguel encouraging Cissé to make his own record with a cast of talented musicians. He assembled an impressive roster including Zoumana Tereta, whose soku playing is one of the highlights of Mali Overdrive. The lineup also features Djimé Sissoko and Oumar Koïta on ngoni, Abdramane Touré on bass, Oumar Konaté on acoustic guitar, and Mahalmadane Traoré and Sanmiguel on calabash.
The opening track, "Baala," was submitted to World Music Network's online 'Battle of the Bands' competition, which secured Cissé a recording contract. The tune sets the tone for the album with layered, distorted electric guitar phrasing and sweet vocals over a solid foundation of ngoni, bass and calabash. On "Baala," Zoumana Tereta adds great texture with his soku fiddle, functioning almost as a second voice. This song praises hard work and honesty, reminding folks that nothing in life comes easy.
Perhaps the greatest sequence on Mali Overdrive is found between the third, fourth and fifth tracks. "Aïgouna" is an upbeat, driving song dedicated to the Fulani people. Cissé's looping guitars are matched by a terrific bass line. "Sekou Amadou" is a tribute to the leader and founder of the Fulani Empire of Macina. It's a slow, reflective track centered around a repeated ngoni riff, which is intensified by Cissé's passionate singing. His high-pitched voice nearly cracks with emotion throughout this beautiful song. It closes with a clip of Nelson Mandela's speech from his defense at his 1964 trial. "Wamassiheme" follows and changes the pace again with another positive number meant to comfort friends in times of sadness by dancing their troubles away.
"Horey" will sound familiar to some listeners. It's built on the infectious takamba rhythm, popular in Gao and Timbuktu. The slow groove simmers on calabash and offers a nice nod to Songhai nobility.
Mali Overdrive is a promising first step for Anansy Cissé. The entire album has a laid-back feel, so it might be nice to hear a little more variety in approach and tempo next time. Still, it's refreshing to hear a distorted, guitar-driven record that isn't overbearing, with great instrumentation and pleasant vocals. Without a doubt, Cissé is a talented young musician with lots of potential.
Originally published in RootsWorld Magazine.