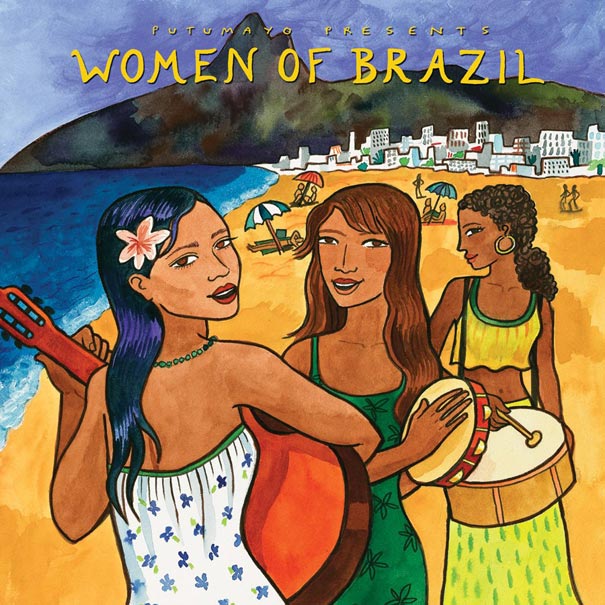 Miriam Maria – "Boi de Haxixe"
Women of Brazil
The bright, sensual sounds of contemporary Brazilian female vocalists are showcased on Putumayo's Women of Brazil. Touching upon some of the most promising young voices in Brazilian music today, Women of Brazil compiles songs from Brazilian artists as well as others outside of the country who have dedicated their voices to bossa nova and samba. Featuring updated takes on classic songs and impressive original compositions, this set will introduce audiences to a lot of these singers for the first time. Putumayo founder and CEO Dan Storper believes the melodies and lyrics on Women of Brazil bring these diverse artists together.
"There's this seductive, sensual sound, reflecting the beautiful melodies, thoughtful lyrics and unique perspectives of these performers that unites them. They all manage to make great music paired with exceptional lyrics, words that are not just about love, lust and loss, but often about something deeper." – Dan Storper
While this compilation focuses more on the softer side of bossa nova and samba, each track is unique in its presentation. Clara Moreno's "Balanço Zona Sul" offers ambient electronic sounds, Flavio Coehlo's "A Foto" serves up a reggae twist and Miriam Maria dishes out a strong accordion and brass-laden groove on "Boi de Haxixe." Part of São Paulo's neotropicalismo movement, Miriam Maria delivers a striking mix of traditional and contemporary Brazilian sounds. Her contribution is arguably the strongest on the set and a fitting closer to this CD. Listen to Miriam Maria's "Boi de Haxixe" above and sample the collection at Putumayo's bandcamp page.