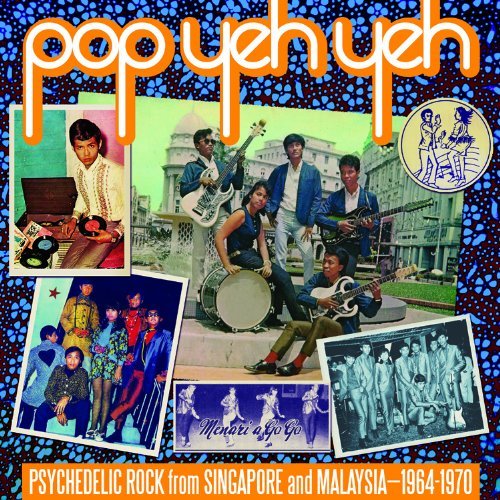 [soundcloud url="http://api.soundcloud.com/tracks/74509088″ params="show_artwork=false&show_comments=false" iframe="true" /]

As Beatlemania blew up in England and the U.S., it swept across the globe influencing the sound of rock music worldwide. Far away from Liverpool, the Beatles' music found its way into Singapore and Malaysia where it left a lasting impression on the Malay youth. As popular as the Beatles were it was another British act, Cliff Richard and the Shadows, that made the biggest impact on the Malay Peninsula. He and his band traveled to Singapore to perform around 1965, the same year the Kinks, the Rolling Stones and other popular Western groups appeared there. After word of these legendary concerts spread, every kid wanted to put together a five-piece band called kugiran, an acronym for kumpulan gitar rancak, which translates to "rhythmic guitar bands." Following in the footsteps of the popular Western acts, the groups typically featured rhythm & lead guitar, drums, bass and vocals, adding keyboards in the later years. The seed was planted and a musical movement was born.
From 1964 to 1970, Malaysia and Singapore was home to some of the most scintillating psychedelic rock music around. This movement became known as "Pop Yeh Yeh," a clever twist on the chorus from the Beatles' song "She Loves You." Early trendsetters M. Osman and Jeffridin recorded their songs in Malay which was groundbreaking at the time since up to that point groups recorded songs with Chinese or English lyrics. The language and content of the lyrics changed along with the attitude and fashion of Malaysia and Singapore's youth. Coming out from under British rule, the conservative society was intimidated by the wild, electric sounds of Pop Yeh Yeh and the flashy, trendy clothing associated with it.
Until now it has been next to impossible to find this amazing music in record stores throughout the U.S. Thanks to Sublime Frequencies, Pop Yeh Yeh – Psychedelic Rock from Singapore and Malaysia 1964-1970: Vol. 1 is now available on CD. In a stunning collection spanning 26 tracks, Sublime Frequencies digs in deep and provides two 40-page booklets with extensive liner notes. Lyrics and profiles of each artist are included to give you an in-depth overview of this terrific music. Carl M. Hamm (DJ Carlito, host of "If Music Could Talk" on WRIR 97.3LPFM Richmond, VA) spent eight years researching and compiling tracks for this release. Pop Yeh Yeh – Psychedelic Rock from Singapore and Malaysia 1964-1970: Vol. 1 includes music from M. Osman, Orkes Nirwana, Adnan Othman, A. Halim, Roziah Latiff and the Jayhawkers, J. Sham, Hasnah Haron, Zaleha Hamid and many more. Check out an album preview above and watch Carl M. Hamm's montage video.
"It could be that some Malaysians and Singaporeans don't believe that the rest of the world could possibly care about, understand, or appreciate the Pop Yeh Yeh era. This compilation begs to differ with that assumption. This music is incredible, and I hope you will be as mesmerized by it as I am." – Carl M. Hamm