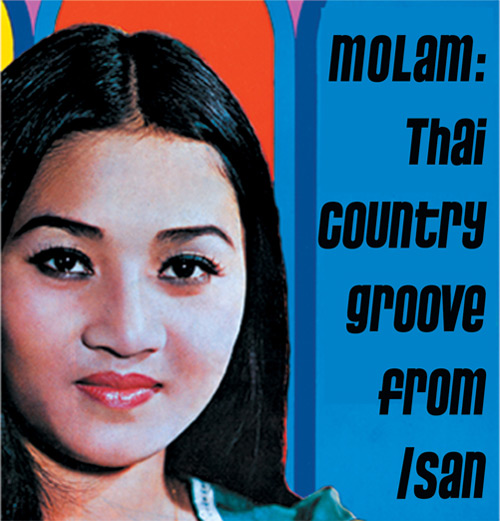 [soundcloud url="http://api.soundcloud.com/tracks/74508995″ params="show_artwork=false&show_comments=false" iframe="true" /]

Sometimes two generations of music smack into each other and produce a unique sound that is spontaneous, wild and cannot be replicated. Between the 1970s and 1980s, the Northeastern region of Thailand known as Isan was a place where traditional and contemporary styles mixed together to form an electrified version of molam. Molam translates to "master singer" with mo meaning "master" and lam meaning "song." Within molam there are many different lam styles which feature singers backed by the khaen, a free-reed bamboo mouth organ. The khaen as well as the lute-like phin and soong and the sor bowed fiddle give this music its indigenous flavor with acoustic instrumentation. What makes this version of molam so exciting is the introduction of electric bass, fuzz guitar, electric organ and the drum kit into the mix. Stir these elements together and you get a hearty groove that is unlike anything else.
Sublime Frequencies is renowned for releasing great collections of eclectic music from around the globe. Molam: Thai Country Groove from Isan Vol. 1 is the first compilation featuring classic electric molam that has been released outside of Thailand. Alan Bishop and Mark Gergis put this terrific set together which primarily features lam phun and lam sing molam along with the slower, more mournful look thoong style. Costumed Isan comedy troupes known as Talok incorporated vaudevillian humor and outlandish social satire into their energetic version of molam and look thoong. Khong Khao Noi Mea Ka 99's "Pleng Peebah (Crazy Song)" will give you an idea of how bizarre some of these routines were.
Originally released on CD in 2004, this excellent collection was recently reissued on vinyl 2LP. Compiled from vinyl LPs, 45s and cassettes recorded in Isan and beyond between the 1970s and 1980s, this set digs deep and offers an amazing overview of electric molam music. The passionate singers lay down impressive vocal vibrato over the khaen which contrasts nicely with the gritty electric bass and fuzzed out electric guitar. Each composition is strikingly original and fresh. This music will captivate you. Listen to an album sampler to get a taste for this eccentric molam music. You won't be able to resist it.