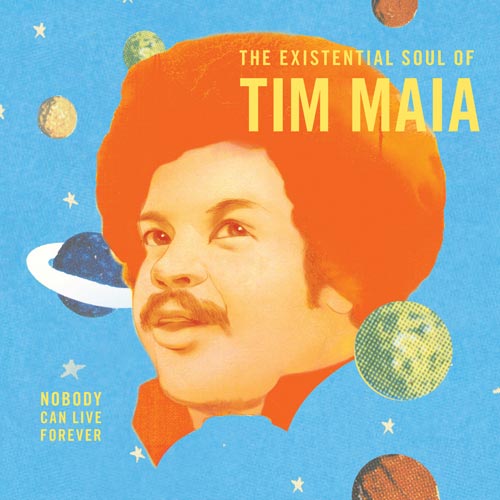 [soundcloud url="http://api.soundcloud.com/tracks/56581103″ params="show_artwork=false&show_comments=false" iframe="true" /]

Tim Maia – "Que Beleza"
Nobody Can Live Forever: The Existential Soul of Tim Maia
Tim Maia is known as the father of Brazilian soul music. At the age of 15, Sebastiño Rodrigues Maia started a band in Rio de Janeiro called The Sputniks. One of their notable members was the young Roberto Carlos, a neighborhood friend of Maia's, who later blossomed into a full blown Brazilian star himself. He began teaching guitar to the kids in his neighborhood of Tijuca, including the Matoso gang (Maia, Jorge Ben, Erasmo Esteves, later Erasmo Carlos, and several others). At the age of 17, with $12 in his pocket and no knowledge of English, he came to Tarrytown, NY to stay with some distant cousins. Known for his wild habits, Maia was caught smoking pot in a stolen car in Daytona and spent six months in jail before being deported back to Brazil.
While Maia was in the United States, he became infatuated with the sound of American soul music. At the time in Brazil, the popular music was divided into nationalist MPB Tropicalia and international rock. Very white, English oriented music. Maia came back home linking funk and baiño with bossa nova and soul music, which was unheard of at the time. These sounds helped build the Black Rio movement in response to the civil rights struggle happening in the U.S. The influence of Barry White, Issac Hayes and James Brown was strong on Tim Maia, who made a huge impact on the dance floor with his sultry vocals and hard-hitting grooves. Listen to "Que Beleza" above and see if you can resist dancing. The fuzz-blasted lead guitar alone will melt your shoes.
This September would have been Maia's 70th birthday. He tragically died at the age of 55 and obese after a suffering a heart attack on stage in 1998. For 10 years, Luaka Bop has been putting together an incredible collection of his best work. Nobody Can Live Forever: The Existential Soul of Tim Maia is now available and reveals an intimate portrait of how much fun Maia had making music over the years. "I am bicão," he used to say about himself, which is slang for people who go to a party without an invitation. His soulful, free spirit lives on in his irresistible music. You can sample the album on soundcloud and watch a great preview for the Nobody Can Live Forever: The Existential Soul of Tim Maia below or on vimeo.