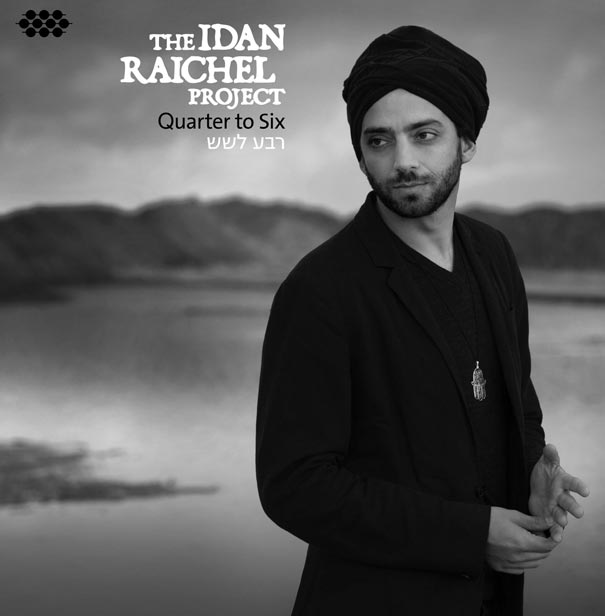 Israeli keyboardist and composer Idan Raichel is back with a new release from the Idan Raichel Project entitled Quarter to Six (Cumbancha). This time around the group chooses a reflective, subdued approach inspired by a quote from a work by the late Israeli writer/actor/singer Yossi Banai. Banai once observed his mother gazing silently out a window. When he asked if she was alright she replied, "It feels like it is quarter to six. It's going to be dark soon."
"This quote really affected me. It's a way to describe the end of life. People learn to accept this time of day, to come to terms with their life, in peace. And I thought of this moment in my life as an interesting junction, a crossroads." – Idan Raichel
Quarter to Six is a slow, acoustic and orchestral record which moves in a variety of directions, due in part to the strong list of international talent on hand. Portugal's Ana Moura adds her voice, in Hebrew and Portuguese, to "Sabe Deus (God Knows)," which has a nice Fado sound with Moura's passionate vocals and supporting Portuguese guitar. Palestinian-Israeli singer Mira Awad features on one of the most driving tracks on the album, "Ana Ana wa Enta Enta (I Am What I Am)." Awad's vocal takes the song by storm with the Project digging into a solid groove.
Malian guitarist Vieux Farka Touré guests on "Mon Amour (My Love)," a beautiful track featuring a tender vocal from Touré with acoustic guitar, bass, oud, accordion, piano and percussion. The song starts Part B of the record and is a fitting midpoint. Colombian singer Marta Gómez offers uplifting lyrics and vocals to "Detrás De Mi Alma (Behind My Soul)." One of the most surprising contributions comes from German counter-tenor Andreas Scholl, whose deep, operatic voice graces "In Stiller Nacht (In a Quiet Night)." This impressive cast of dynamic artists bring the sounds of their cultures with them and enhance Quarter to Six immensely. Raichel's compositions and arrangements are engaging and diverse. While this is a softer record than the Project is known for, it is just as compelling.
Check out the video for "Mon Amour" below and take a look at The Idan Raichel Project's tour schedule to see when they will be in your area.