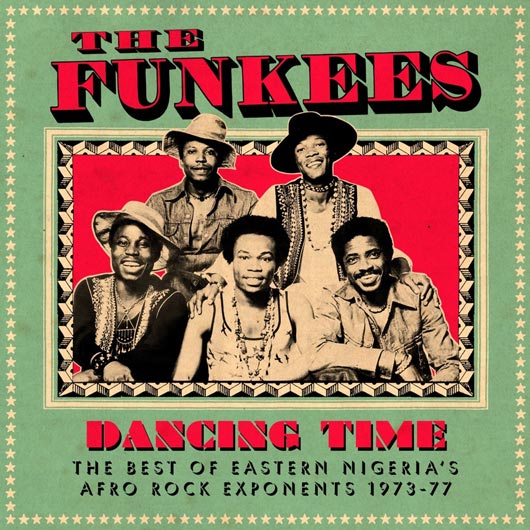 The Funkees – "Breakthrough"
Dancing Time: The Best of Eastern Nigeria's Afro Rock Exponents 1973-77
Today we are fortunate to feature a terrific collection by The Funkees. After being included on the three Nigeria Special albums, Soundway Records decided it was time for The Funkees to get their own compilation and the result is Dancing Time: The Best of Eastern Nigeria's Afro Rock Exponents 1973-77, an album worthy of the title. Included are 18 incredible, funky Afro-rock grooves hand picked by Soundway's Miles Cleret from a selection of the band's 45s and two long players. This record represents the five year period when The Funkees were shaking the dance floors across Nigeria and beyond. The group's mission was to get people dancing and they accomplished their task by playing throughout the night, seven days a week. At the height of their powers, they gave popular Lagos groups like MonoMono and BLO a run for the money.
The group was formed at the tail end of the Nigerian civil war by Harry Mosco Agada (then a guitarist in Celestine Ukwu's Music Royals). The band played for the army's 12th Brigade in Aba and changed musicians many times in search of the perfect lineup. As The Funkees gained more attention, it didn't take long for music promoters from the UK to take notice. The group packed up and moved to London, where they made an instant impact on the live circuit there. They recorded two albums in England before the group broke up in 1977. This compilation marks the first time a collection has been culled from all of their Nigerian 45s and the best of their two full-length releases. This record also includes an interview with original member Sonny Akpan, who still lives in London. Be sure to get yourself a copy today and to get pumped for this amazing release, check out the irresistible "Breakthrough" above.