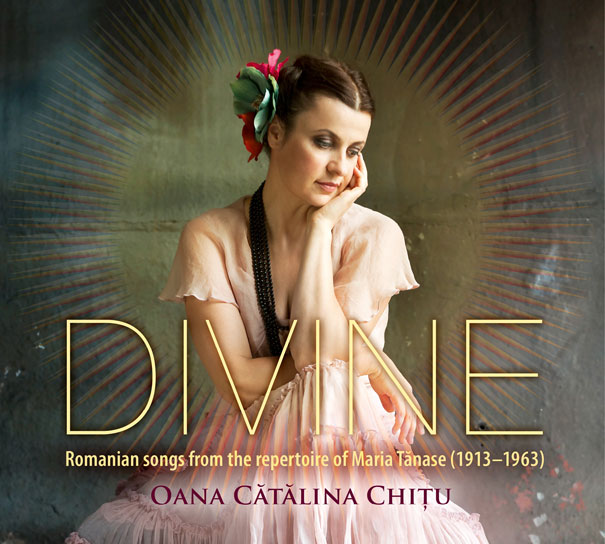 [soundcloud url="http://api.soundcloud.com/tracks/84233974″ params="show_artwork=false&show_comments=false" width="100%" height="166″ iframe="true" /]
Romanian-born and Berlin-based vocalist Oana Cătălina Chiţu digs into the music of Romanian treasure Maria Tănase on her latest release, Divine, on Asphalt Tango. With songs ranging from 1913-1963, Chiţu explores the sensual sounds of Tănase, while adding her own voice and virtuosic band. Serbian accordionist Dejan Jovanovic and hammered dulcimer master Valeriu Cascaval support Chiţu brilliantly as they add heat to the compositions. However, this group is just as comfortable sitting back and letting the vocals take center stage.
Maria Tănase's legacy has been restored in Romania in recent years. Before World War II, she performed folk songs, tangos, romances, couplets and căntece de mahala in restaurants, venues and on the radio, typically accompanied by Roma musicians, the lăutari. At that time Bucharest was a hub of art and culture and Tănase was beloved, often considered Romania's answer to Edith Piaf.
"During the years between the World Wars, Bucharest was a very cultural and vibrant cosmopolitan city, often compared to Paris. Apart from the tango, jazz, and café-concert were also very popular, around that period." – Oana Cătălina Chiţu
When the Iron Curtain fell and segregated Eastern and Western Europe, Tănase's flair and extravagance did not fit inside the limited confines of acceptability set by certain party officials. This led to her music being largely forgotten throughout the 1960s. Even still, Romanians never forgot her and by the 1990s her music started resurfacing and today she is held in the highest esteem.
While Oana Cătălina Chiţu has chosen to cover Maria Tănase's music, her individuality shines through on Divine. With edgy interpretations, filled with passion and imagination, Chiţu and her band bring in manouche, blues and a special type of tango which mixes sinti swing and flamenco. All this is wrapped in an intricate sense of timing which keeps listeners glued to the music. Divine sounds partly familiar but mostly new as the group stays clear of strict covers instead breathing plenty of fire into their renditions of Maria Tănase's songs.
"I feel there are still too many great songs from that era that need to be rediscovered. The music from that era is so emotionally intense, something that is a bit lacking in today's music – and I want to re-acquaint my audience with those emotions and that intensity." – Oana Cătălina Chiţu
Listen to "Habar n-ai tu" above, a song about hidden love and the longing felt when you cannot convince a person to love you the same way. Check out a video of Oana Cătălina Chiţu & Bucharest Tango below. Chiţu and her band will be performing in Germany next month with appearances in Belgium to follow, so check out her tour dates.