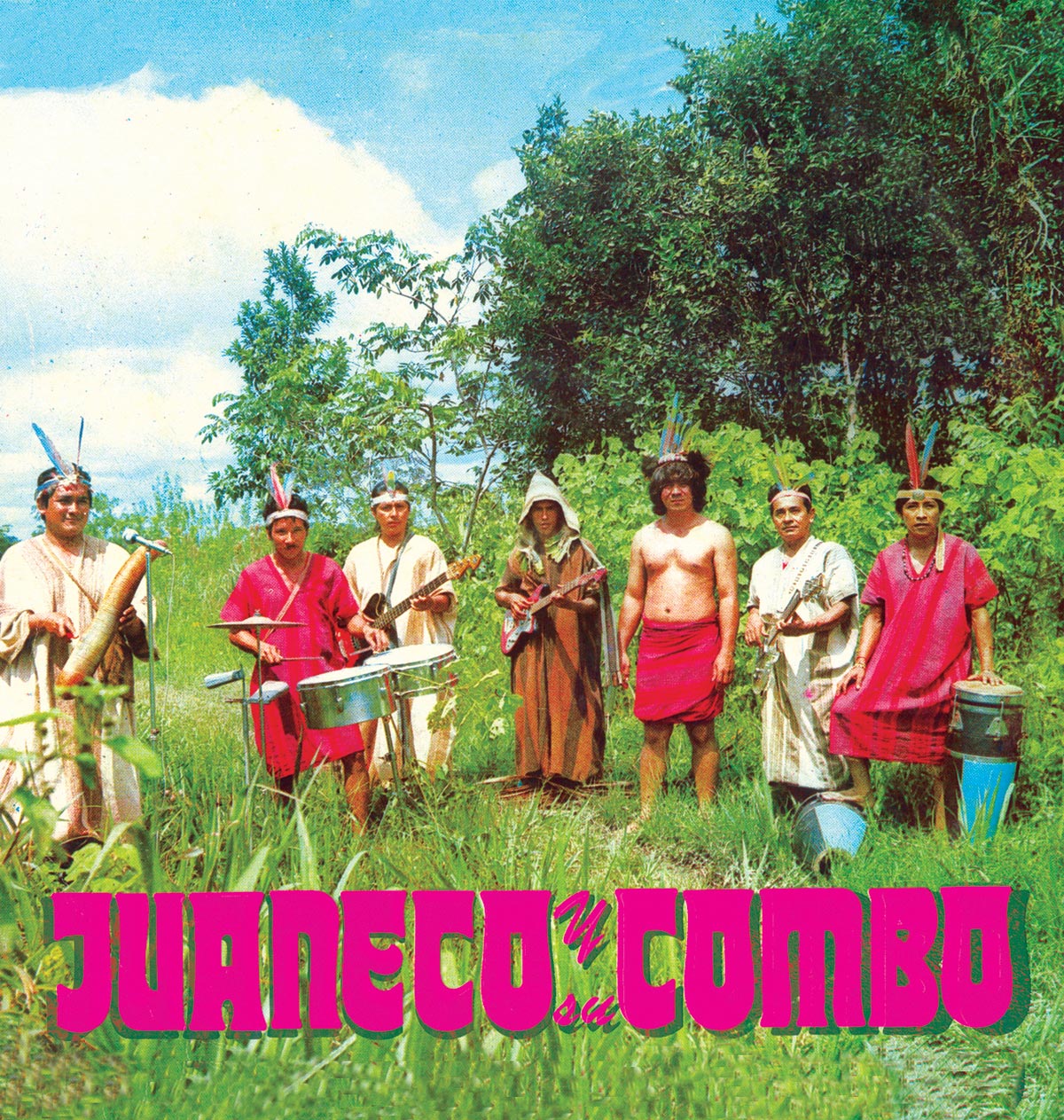 Juaneco y su Combo turned Peruvian music on its head when they broke from tradition and replaced their acoustic instruments with electric ones in 1970. Their first recordings remain the earliest example of cumbia selvática or cumbia amazónica. This jungle cumbia is different from the cumbia peruana found in the mountains. However, these two styles were thrown into one pot when the term chicha, named after the popular corn drink, was used to describe Peruvian cumbia. Juaneco y su Combo are the pioneers of Amazon cumbia and their original recordings have been reissued courtesy of Brooklyn's The Vital Record. The Birth of Jungle Cumbia compiles Juaneco y su Combo's self-titled 1970 Mini-LP and 1972 debut LP onto one disc.
In 1964 Juan Wong Paredes, the son of a Chinese immigrant, formed Juaneco y su Conjunto, an acoustic band from Pucallpa that played a number of musical styles made popular in the Amazon during the earlier half of the 20th century. When his son, Juaneco Jr., returned from military service in 1965, he spoke to his father about changing the direction of the group after spending time in Lima. Juaneco Jr. proposed going electric and the pair agreed as they bought amps and electric guitars as well as a Farfisa electric organ. The band changed their name to Juaneco y su Combo with Juaneco Sr. becoming the band's manager. The new lineup consisted of Juaneco Jr. on organ, Noé Fachín Mori on lead guitar, Walter Domínguez Oñate on bass, Wigberto Murrieta Bardales on rhythm guitar, Rosendo Hidalgo Torres on timbal, Juvencio Pinchi Sangama on congas, Jairo Aguilar Tejada on bongo and Wilindoro Casique Flores on the güiro.
While Juaneco y su Combo's tracks have popped up on psychedelic Peruvian collections, this is the first time these versions have been released internationally. This unadulterated slice of jungle cumbia is an essential listen for anyone who appreciates groundbreaking, rhythmic music. Recorded by the Lima-based IMSA label, these 18 tracks are raw and full of gritty integrity. The Birth of Jungle Cumbia features the group in their most exciting form. These recordings reveal a band full of ideas. Noé Fachín Mori's guitar work shines as he directs the compositions with his fluid, melodic riffs. His influence on the group was unmeasurable but when tragedy struck the group, everything about Juaneco y su Combo changed.
In 1977, five of the nine band members, including Mori, were tragically killed in a plane crash on the way home from a gig. The surviving members reconstructed the band, but the sound changed and the edgy thrill of their early work was lost. Luckily these once forgotten records have been resurrected by the Vital Record. Now you can enjoy popular compositions like "Caballito Nocturno" in their finest form. Listen as the guitar swirls inside your brain while the fuzzy Farfisa harmonizes and grooves along with the thumping bass and constant percussion. Complete with detailed liner notes penned by Amazon Historian James Matos Tuesta, the Vital Record demonstrates a thirst for sharing knowledge, putting each composition into context with comprehensive information. The Birth of Jungle Cumbia is a must-have compilation of some of the most exciting music to ever come out of the Amazon. Get your ears on it.