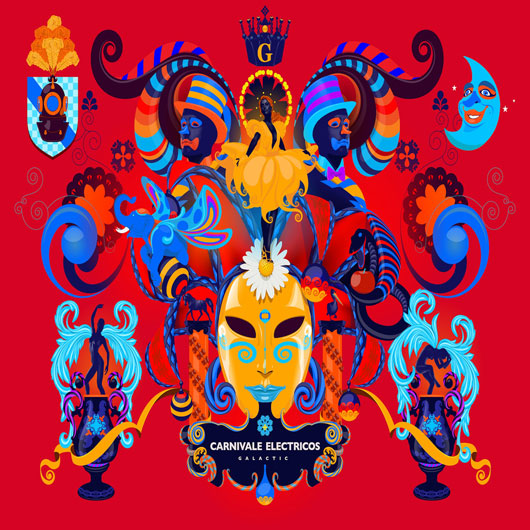 Galactic – "Hey Na Na"
Carnivale Electricos
Today is Fat Tuesday and we celebrate by featuring the latest release from one of New Orleans' finest groups, Galactic. Carnivale Electricos is Galactic's first carnival record and it couldn't come at a better time. The members of Galactic (Ben Ellman, harps and horns; Robert Mercurio, bass; Stanton Moore, drums and percussion; Jeff Raines, guitar; Rich Vogel, keyboards) draw on the skills, stamina, and funk they deploy in the all-night party of their annual Lundi Gras show that goes till sunrise and leads sleeplessly into Mardi Gras day. It's a carnival record that evokes the electric atmosphere of a whole city – make that, whole cities – vibrating together all on the same day, from New Orleans all down the hemisphere to the mighty mega carnivals of Brazil. Armed with a slew of carnival-ready guests — including Cyril and Ivan Neville, Mystikal, Mannie Fresh, Moyséis Márquez, Casa Samba, the KIPP Renaissance High School Marching Band, and Al "Carnival Time" Johnson (who remakes his all-time hit) — Galactic whisks the listener around the neighborhoods to feel the Mardi Gras moment in all its variety of flavors.
Carnivale Electricos takes the listener on a journey through Mardi Gras day and kicks off with the Mardi Gras Indians. These "gangs," as they call them, organize around and protect the figure of their chief. The album's keynote singer, Big Chief Juan Pardo, is, says Robert Mercurio, "one of the younger Chiefs out there, and he's become one of the best voices of the new Chiefs. Pardo grew up listening to the singing of the older generation of Big Chiefs, points out Ben Ellman, and "he's got a little Monk [Boudreaux], a little Bo Dollis, he's neither uptown nor downtown." Throughout the record, there are a lot of Brazilian influences. "When we started this album, we all immersed ourselves in Brazilian music and let it get into our souls," says Mercurio. The group contributed three Brazilian-flavored instrumentals, including "JuLou," which riffs on an old Brazilian tune, though the name refers to the brass-funk Krewe of Julu, the "walking krewe" that Galactic members participate in on Mardi Gras morning. After creating the hard-driving track that became "O Côco da Galinha," they decided it would be right for Moyséis Márquez, from the São Paulo underground samba scene, who collaborated with them and composed the lyric. The album wraps up with a tune that leads the celebration from Fat Tuesday into Ash Wednesday. "There is the tension you feel on that morning – one of being worn out from all of the festivities and one of elation that you made it through another year," the group writes. If you can't be a part of Mardi Gras in New Orleans this year, at least you can listen to some of the hard hitting grooves Galactic are known for.