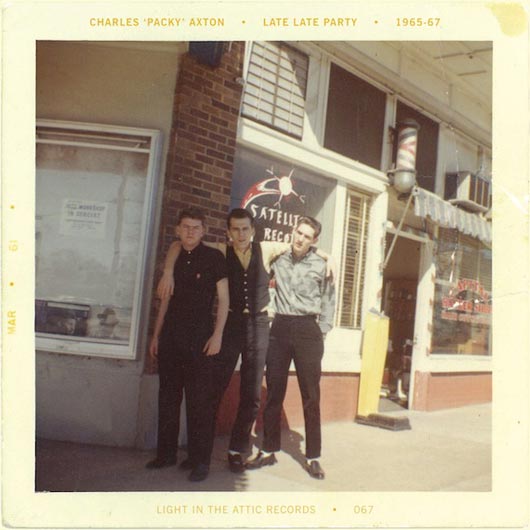 Today we are featuring an amazing compilation from Light in the Attic Records. Charles "Packy" Axton may not be a name most people are familiar with, but he is another important character in American music that faded into relative obscurity. Charles was the son of Estelle Axton, who co-founded Stax Records with Charles' uncle, Jim Stewart. Packy picked up the sax at a young age, and after playing with future Booker T. & the M.G.'s Steve Cropper and Donald 'Duck' Dunn, formed the Mar-Keys. He almost reached the top of the charts in 1961 with "Last Night," but Packy had to move on from the Mar-Keys after friction was caused by his partying lifestyle. In 1965, Axton came back with the Packer's instrumental "Hole in the Wall," which became a national hit.
"This is music that makes you want to shove the coffee table out of the way and pogo until the cabinets rattle, the pets hide, and your downstairs neighbor threatens to call the cops. The fun begins the moment you drop the needle onto one of Packy's 45s." – Andria Lisle
Despite his family connection to the Stax label, Packy found himself out of sorts with the record company, due to his relaxed manner and oft-eccentric ways. He preferred to play music and hang with local black musicians, which was frowned upon at the time in Memphis. This led to Packy spending time at Royal and Ardent Recording Studios to lay down a lot of material throughout the 1960s. Heavyweight producer John Fry (Big Star, Ry Cooder), accompanied by legendary Stax and Hi Records dynamos Steve Cropper, Booker T., and Teenie Hodges (Al Green, Ann Peebles, Syl Johnson), helped Packy put some stomping soul down on wax. Fans will appreciate the first ever compilation of Charles "Packy" Axton's music from his numerous bands.