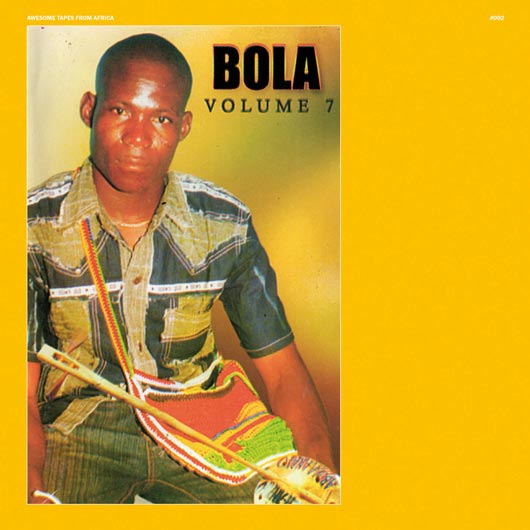 Bola – "Abayetidu Ma"
Volume 7
Today's new release features Bola, who is getting a nice reissue on the Awesome Tapes from Africa label. His album, Volume 7, was released in 2009 but now it has been re-released onto LP/CD/MP3 & limited edition cassette. For those who don't follow it, Awesome Tapes from Africa is one of the best music sites on the internet. You will find plenty of African cassettes that have been out of print for ages. Now Brian Shimkovitz is reissuing some of these gems on his own Awesome Tapes from Africa record label. The first release, Nâ Hawa Doumbia's La Grande Cantatrice Malienne Vol 3, is a magnificent lost treasure that is gladly on wax where it belongs.
Bola is a singer and instrumentalist from Bolgatanga, Ghana. He has been releasing cassettes for years, but when Brian heard Volume 7, he nearly died. Bola grew up herding livestock in the savannah, away from the metropolitan centers of Accra and Kumasi. His bold, avant-garde sound stems from the kologo – a two-stringed lute with a calabash gourd resonator – and quick, raspy Frafra language vocals. Bola plays a traditional instrument and uses griot storytelling in his vocals, yet his sound is contemporary, implementing the current Ghanian sound of drum machines, synths and bone-rattling bass. Listen to "Abayetidu Ma" above and purchase Bola's Volume 7 at your favorite record store.