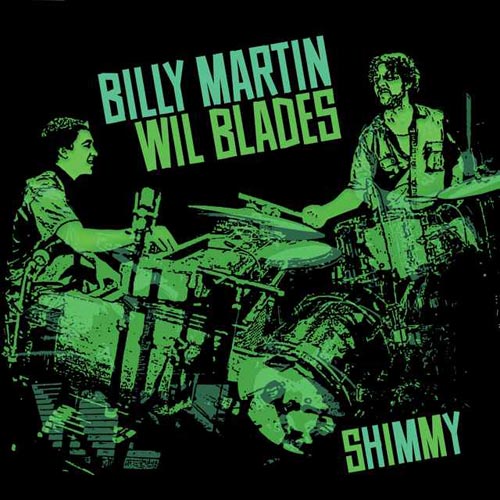 [audio:http://splintersandcandy.com/wp-content/uploads/2012/05/05-Pick-Pocket.mp3|artists=Billy Martin & Wil Blades|titles=Pick Pocket]

Billy Martin & Wil Blades – "Pick Pocket"
Shimmy

Billy Martin, the drummer and percussionist for Medeski Martin & Wood, has been collaborating with Bay Area B3 Hammond organ champion Wil Blades for the past year. The two first got together at San Francisco's groove shack, Boom Boom Room. The duo performed an impressive set at the New Orleans Jazz & Heritage Festival in 2011. A West Coast tour followed and while on the road, the two decided to stop in Berkeley to cut Shimmy, their debut album out today on The Royal Potato Family in collaboration with Amulet Records. The duo share an appreciation for in the pocket grooves, which serve as the perfect foundation for their improvisations.
"Musically, we've tried to stay as loose as possible. Often we get onstage without a plan and just throw different ideas at each other. It's rare to have that kind of trust with other musicians, where you can make something out of nothing and just see what happens. Some of the songs on the record, like 'Deep In a Fried Pickle' and 'Give,' were born out of these live improvs. I think our overall concept is to stay in the pocket and groove, but keep it open and loose at the same time." – Wil Blades
As you'd expect, Shimmy serves up a heavy dose of organ-jazz blues and funk, harking back to the glory days of Charles Earland, Brother Jack McDuff and Groove Holmes. Wil Blades shows his mastery of the B3 all over this record. Instead of playing riffs that made the instrument popular in the 60s, Blades reveals new ideas and motifs that keep the listener guessing. Billy Martin delivers some of the tightest drumming you are likely to hear all year, as he usually does in Medeski Martin & Wood. It's hard to believe Billy and Wil are only a duo as there is so much sound coming from the two of them on this record. For a taste, listen to "Pick Pocket" above or download the song. You can also hear "Les and Eddie" at soundcloud. Get out to your local record store or the Amulet Records' store and grab the LP / CD today.