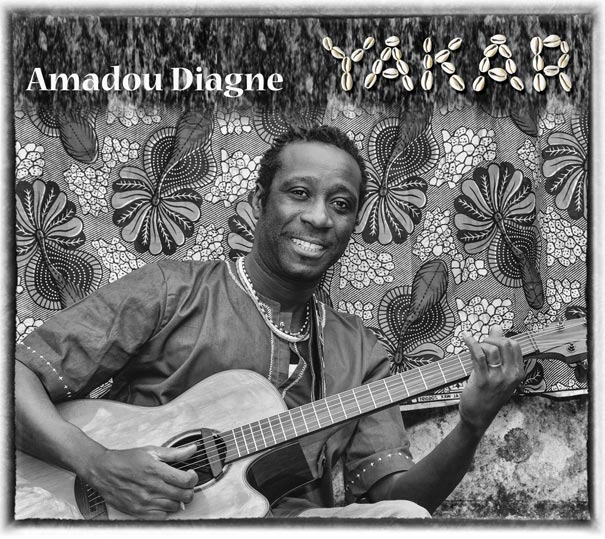 Senegal's Amadou Diagne spent seven years backing artists like Youssou N'Dour, Cesária Évora and Jimmy Cliff during his stint as a percussionist in L'orchestre National du Sénégal. After he won a battle of the bands contest on World Music Network's website, the label released his debut album Introducing Amadou Diagne in 2012. Diagne follows up his first release with Yakar, a set of traditional and original songs featuring his warm, expressive voice, finger-picked acoustic guitar and steady percussion on Waulk Records.
Scottish fiddler and producer Griselda Sanderson joins Amadou Diagne, adding violin, viola and nyckelharpa arrangements to create a dynamic record with plenty of texture. Alongside Abdoulaye Samb (guitar and bass), Pete Josef (bass), Louis Bingham (guitar), Alioune Samb (keyboards) and Simo Lagnawi (guembri), Diagne and Sanderson develop a cross-cultural sound that is unique and rewarding for listeners.
Throughout Yakar Diagne sings in English, French and Wolof. His lyrics address such Senegalese issues as intertribal relationships ("Sey"), child safety ("Help a Child"), women's rights ("Aida") and immigration ("Emigrés"), which hits close to home as Diagne now lives in the UK. "Emigrés" features a striking string arrangement from Sanderson and strong supporting vocals from Lagnawi. "Travel" is one of the most memorable tracks on the CD. The driving pace, minor melody and passionate vocals make it easy to imagine the risks associated with traveling, especially for women.
Amadou Diagne does a fine job expanding on the bare bones approach of Introducing Amadou Diagne. While Yakar continues the slow, acoustic style established previously, it is more adventurous this time around with a variety of compelling compositions from a more confident songwriter. Diagne's partnership with Griselda Sanderson is terrific and brings something new to the music. No doubt both artists will benefit from future collaboration.
Originally published in RootsWorld Magazine.