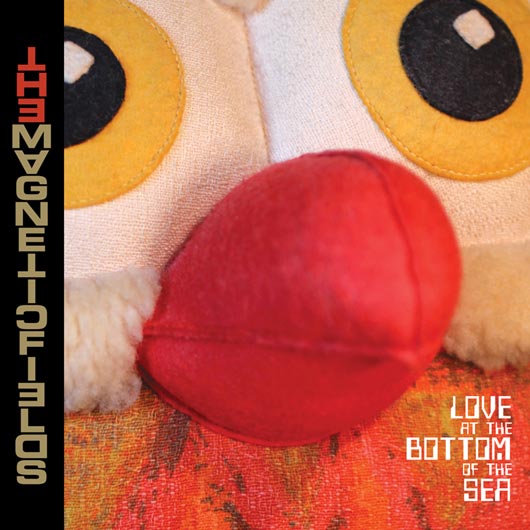 I recently had the pleasure of seeing The Magnetic Fields at Helsinki Hudson with my girlfriend Anna, who has been a fan of Stephin Merritt for years. We had never seen The Magnetic Fields in concert before, but we had been to Helsinki Hudson a couple of weeks prior to see The Wiyos. The place itself is beautiful and nested a block off of Warren Street. The large, industrial space is vast but intimate. There is a restaurant attached to the venue and a ballroom upstairs. The acoustics are incredible inside the club and the stage is nice and close to the audience.
Bachelorette opened up the show as one of the supporting acts for the current Magnetic Fields tour. Bachelorette is the solo recording and live performing project of Annabel Alpers originally from New Zealand. She performs all the music, utilizing loops and samples to layer her psychedelic pop sound into her own backup band. The Magnetic Fields were next, appearing in their first concert of the tour on the same night as the release of their new record, Love at the Bottom of the Sea on Merge Records. The group consisted of Stephin Merritt, Claudia Gonson, Sam Davol, John Woo and Shirley Simms. Johny Blood and Daniel Handler helped make the record, but weren't at the show. The Magnetic Fields got right into it, performing a nice mix of material from the new record as well as some classic favorites. There were plenty of funny interludes during the show including Stephin going off to investigate where a stairwell behind him led. The band went through plenty of songs during their lengthy set, as most of them are rarely over four minutes long. In fact there are no songs over three minutes on Love at the Bottom of the Sea. Their tenth album marks the band's return to Merge Records since 1999's 69 Love Songs and a return to synthesizers.
"Instead of using a synthesizer as a melodic instrument, much of the time I used it as a compositional destructive mechanism, something eating away at the apparent order of my perfectionist arrangements. I was very happy to be using synthesizers in ways that I had not done before. Most of the synthesizers on the record didn't exist when we were last using synthesizers." – Stephin Merritt
The venue was packed and the audience seemed enthralled with the performance. John Woo and Sam Davol's interplay, on guitar and cello respectively, was excellent. Considering the new album is heavily synthesized, it was nice to see the band perform the songs acoustically. The single from Love at the Bottom of the Sea is the amusing "Andrew in Drag," which has been made into a video below. You can keep up with the tour via the Tour at the Bottom of the Sea blog.