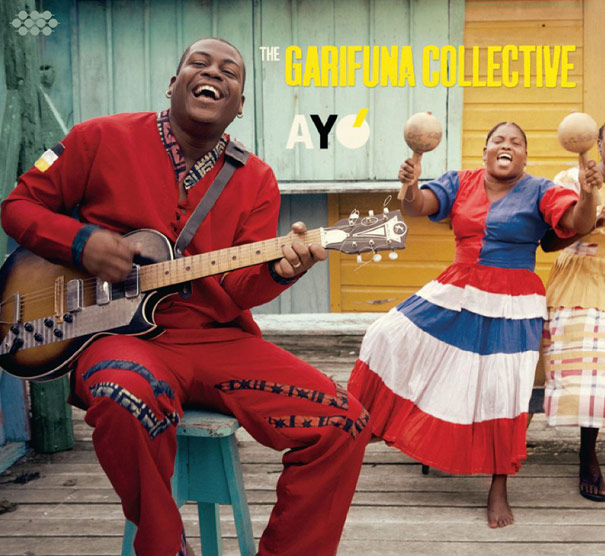 [soundcloud url="http://api.soundcloud.com/tracks/83998127″ params="show_artwork=false&show_comments=false" width="100%" height="166″ iframe="true" /]
The Garifuna Collective returns after a six-year break with a follow-up to the internationally successful Wátina CD recorded with Andy Palacio, which put Garifuna culture on the map. Their new album is entitled Ayó and is available now on Stonetree / Cumbancha. Unfortunately, as major recognition was coming to Andy Palacio and The Garifuna Collective, Palacio passed away suddenly at the age of 47. Ayó ("Goodbye" in the Garifuna language) picks up the where Wátina left off. Working again with Stonetree producer Ivan Duran, The Garifuna Collective sound more mature and focused on this release. Duran believes the differences between Wátina and Ayó are easy to hear.
"Ayó has a much more modern sound, not just on a technical level, but also in its approach. There was a little bit more control in the studio with Ayó, and this time we are pushing the limits. This album sounds like it was made by a band; there's a group spirit that comes across more clearly than ever before." – Ivan Duran
Garifuna music is a hearty mix of Native, African and Latin influences. After a slave ship sunk off the coast of St. Vincent, the surviving Africans swam to shore and intermingled with the indigenous Caribs, creating their own rich, diverse culture in the process. They fought off colonization until the British military forcibly moved them to the Caribbean coast of Central America in 1796, where they settled in Belize, Guatemala, Honduras and Nicaragua. The Garifuna have faced an uphill battle preserving their language, cultural heritage and music during the trying times of globalization.
In addition to the passing of Andy Palacio, the group lost two additional members in the past five years. Giovani "Ras" Chi was shot and killed in Belize City and Justo Miranda suffered a deadly heart attack under a tree in Honduras. While heartbroken, The Garifuna Collective continues to persevere in the face of adversity. Lloyd Augustine and Desiree Diego have stepped into the limelight and the entire ensemble sounds as strong as ever on Ayó. While there are songs dealing with heartbreak and sorrow, it is the overwhelming feeling of hope and joy that prevails on this album. The Garifuna are passionate about the music they play and as new generations join the band, they inspire others to keep their traditions alive.
Listen to "Ubóu" above and check out the video for "Mongulu" below. The Garifuna Collective are currently on tour in the U.S. and Canada, so take a look at their tour dates to see when they will be appearing in your neck of the woods.