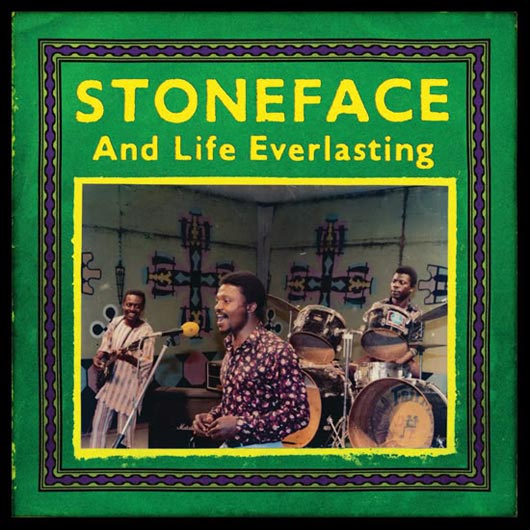 Stoneface & Life Everlasting – "Agawalam Mba"
Today we feature the debut release from another favorite music site, Voodoo Funk. Although this was reissued by Voodoo Funk and Academy Annex a while ago, this 45 is so good it deserves another mention. Originally released in 1973, this was the first release by Stoneface Iwuagwu with his band the Life Everlasting.
Stoneface had already been in a number of groups by the time he put together the Life Everlasting. Kingsley "Dallas" Anyanwu (from the high school band Dee-Mites), lead guitarist Maurice "Jackie Moore" Anyaorah (from Salt & Pepper Organisation), rhythm guitarist Roy Obika and bassist Jimi Henshaw rounded out the Life Everlasting. The group was sponsored by Stoneface's brother rather than the army, which was unusual at the time in East Africa. Unfortunately, this meant the band didn't have much in the way of money or gear, so they used instruments constructed by local carpenters and amps and pedals built by electronics wiz Goddy Oku. Stoneface & Life Everlasting got signed to EMI and recorded their first single, "Love is Free" b/w "Agawalam Mba" at the EMI studio in Apapa, Lagos. The session featured a studio musician playing polyphonic organ that ended up not making the final mix. Enjoy the hard-hitting, Afro-funk you hear on "Agawalam Mba" and you can find the A-side, "Love is Free," on soundcloud. These 45 reissues are limited to a 1,000 pressings, so be sure to get yours before they are gone. Check out the Academy Annex on 96 N. 6th St. in Brooklyn to find the Voodoo Funk releases.