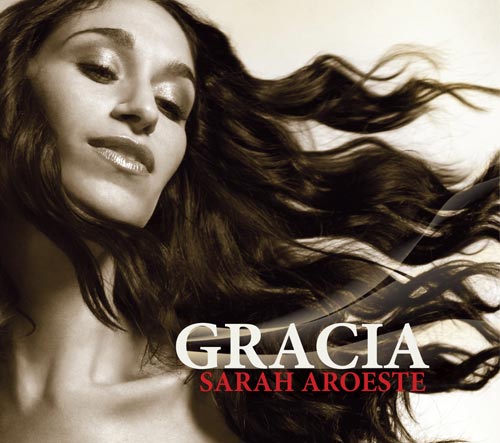 Sarah Aroeste released a new album entitled Gracia this past week. This is Sarah's third album released on her own label, Aroeste Music. Sarah is an American-born Ladino singer and songwriter. She has spent a decade expanding upon contemporary Ladino music. Classically trained and pop-savy, Sarah mixes flamenco and pan-Mediterranean melodies on her new record. Her emphatic vocals are backed by strings and guitars in a well produced set. For those who don't know, Ladino is the Judeo-Spanish language born in the Middle Ages. Spanish Jews were forced from Spain in the late 15th century and scattered across Southeastern Europe and the Mediterranean. Sarah believes that listeners don't need to understand Ladino in order to relate to the topics covered in Ladino songs.
"It doesn't matter that 99.99% of the world doesn't understand Ladino. The themes are universal, the same themes people explore today: going off to war, unrequited love, crushes, death, family dynamics. The music has crossed geographic boundaries and political ones, and the songs are often very celebratory of women – and very sexy." – Sarah Aroeste
While Sarah was studying classical voice in Israel, she came across some Ladino music and became very interested in the language and culture of her roots. She taught herself Ladino and researched Sephardic songs. She hung out with Ladino poets as she saw the klezmer movement gain momentum. Sarah was surprised to see only a few artists were working in the Sephardic traditions. So she picked up a guitar and decided to forge her own path and write Ladino rock songs instead of becoming an opera singer. The Ladino that Sarah sings today has evolved over time, incorporating bits and pieces of languages from the different countries where Jews settled after they were forced out of Spain. "Our version of Ladino is Castilian Spanish mixed with Italian, Arabic, Portuguese, Turkish and Hebrew," Sarah explains. It's no surprise this pan-Mediterranean language lends itself to an eclectic album, filled with many musical styles. Listen to the fiery passion in "Gracia," the title track from the album, below. Sarah will celebrate the release of Gracia at Joe's Pub with Oudblues on May 31st. Catch her at the show and get your hands on a copy of Gracia today.