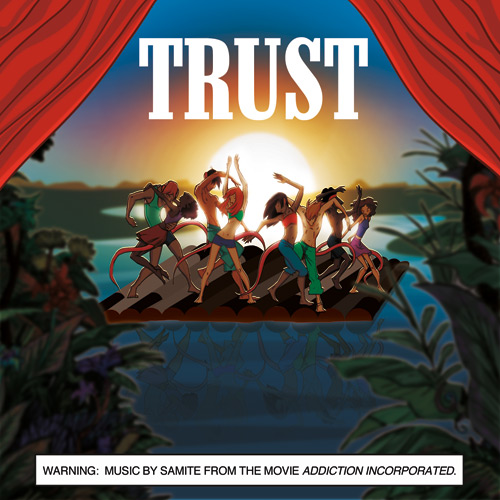 Samite is a multi-instrumentalist and humanitarian from Uganda who is based in the United States. This week he released Trust, an album which explores the storytelling powers of instruments and the roots of East African music. For this record, Samite wanted to move away from drums and percussion to get closer to the harmony going on between the melodic instruments. Trust presents a collection of instrumental songs drawn from his respect for tradition and his recent soundtrack work. Guitars, cello, kalimba and flute fill the tracks with shimmering brilliance and beauty.
Growing up in Uganda was not always easy for Samite. He was forced by a brutal conflict to flee his home and seek refuge in Kenya for years. Eventually he made his way to U.S. where he was able to put his musical vision into action. He began to expose his talent to American audiences and focused on giving back to the troubled people in African war zones. All of the proceeds from Trust will go to Musicians for World Harmony, a non-profit organization dedicated to healing people displaced and traumatized by conflict via music performance and music therapy.
"On a recent trip to a huge refugee camp in Mubende, Uganda, we brought in twenty musicians with drums and dancers on a pickup truck. People started running toward us, jumping, clapping, and dancing. At least then, for five hours, they forgot about their problems. I know what it means to sing and dance when you've had to face so many bad memories. It's so important." – Samite
Samite was asked by director Charles Evans, Jr. to contribute music to the documentary Addiction Incorporated. Evans was so impressed by Samite's work that he asked him to compose all of the cues used in the film. South African guitarist and close friend Tony Cedras (Paul Simon), Samite and Evans went into P. Diddy's studio in NY to record material, urging other musicians to play the parts Samite would normally play himself. Cellist Elizabeth Simkin, Grammy-winning guitarist David Cullen and Cameroonian bassist Fred Doumbe joined Samite and Cedras for the session.
Together, this ensemble makes powerful, instrumental music that is rich in East African melodies and draws inspiration from Cedras' South African upbringing. Samite regularly visits Uganda and Congo with musicians and music professionals to work with local musicians, children, and other displaced people to bring relief to their trauma through the power of music. Check out Samite performing "Mutoto" below. Mutoto means young child in Swahiri. In this song, the young child is a mountain gorilla who is happy that people came to visit his family in peace. Trust is available now so pick it up at your local record store.