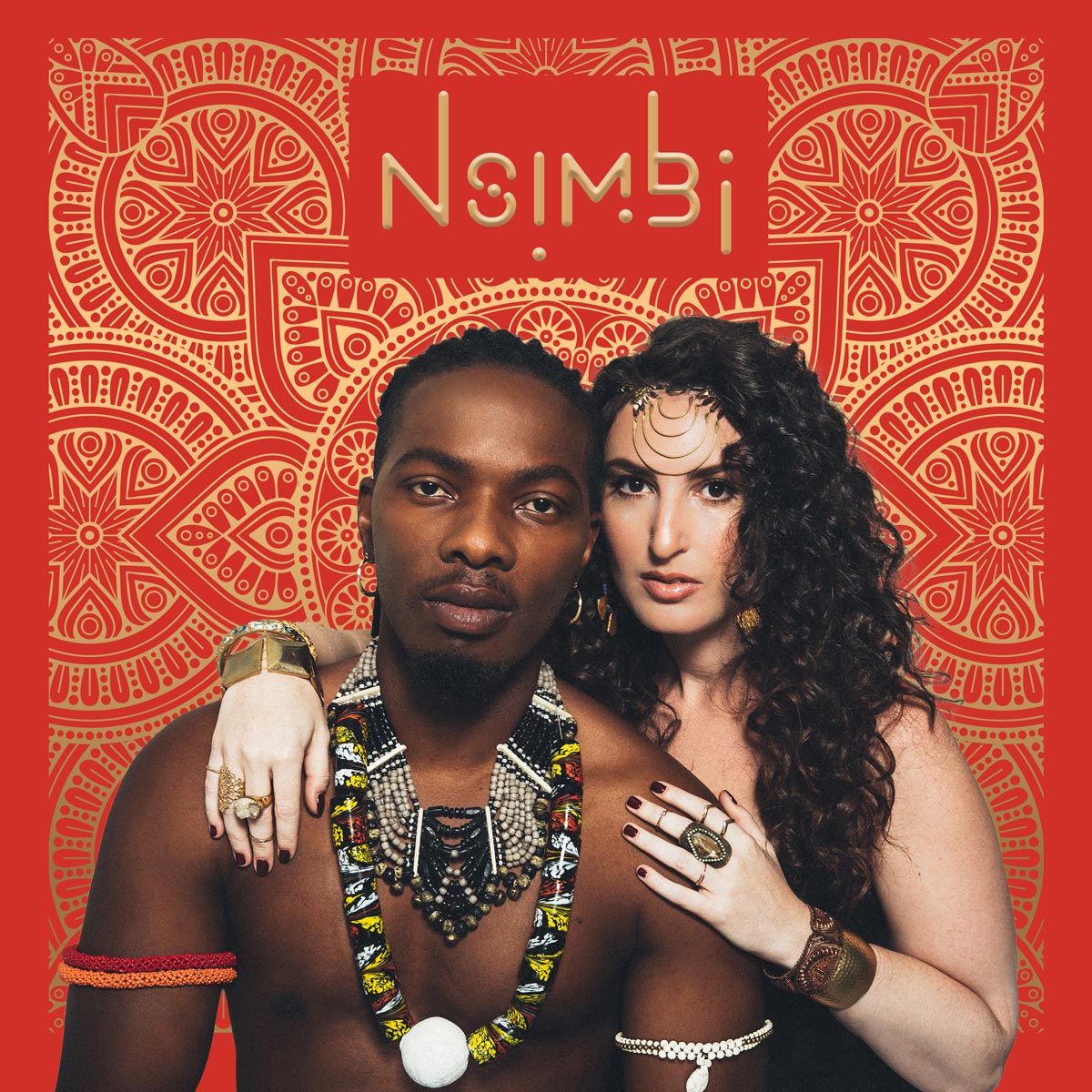 The positive power of music is expressed in full on the debut, self-titled release by Nsimbi. The group features GNL Zamba from Uganda and Miriam Tamar from the USA, a married duo who met in Uganda years ago where they first collaborated on a track together to raise HIV awareness. In Uganda, Zamba is better known as a hip hop MC, dubbed the "ghetto storyteller." He brings those skills to this record where his voice is balanced by Tamar's clear, uplifting vocals. The pair are joined by US-based Ugandan multi-instrumentalist Herbert Kinobe and the Congolese guitarist and singer Jaja Bashengezi to form a solid ensemble.
Nsimbi's sound is filled with traditional East African instrumentation, but takes a modern approach. Their songs are based on Swahili and Baganda proverbs, which work well with Zamba's fluid storytelling style. Lyrics are sung by Zamba and Tamar in English, Luganda, Lingala, and Swahili. The proverbs serve as a source of inspiration and knowledge, two aspects of music that Nsimbi try to promote with an eye on appreciating and understanding different cultures.
The album opens with the upbeat "Dunia ni Matembezi." Electric guitars groove together while subtle yet deep percussion guides the band. Zamba effortlessly raps and Tamar sings with great clarity. This sonic balance is instantly intriguing and the playful dynamic between Zamba and Tamar continues as the record progresses.
Bashengezi's popping guitar comes to life on "Leo ni Leo." The electric guitar mixes perfectly with a likembe and Kinobe's excellent percussive work, creating a natural bounce to the song. Zamba's quick pace is countered by Tamar's slow and steady vocals, joining together in the chorus.
"Mujje" is one of the most driving tracks on the CD. Talking drum and acoustic guitar lead this song with Tamar singing passionately about the importance of peace and love. Zamba interjects his rapid, cool raps effectively with plenty of musicality in his phrasing.
The traditional instruments shine on "Omugga," a song about the moving current of a river. Zamba doubles his voice as a storyteller and rapper with Tamar adding beautiful vocal breaks over the top of the ensemble. Plucked and bowed instruments offer steady support with a ringing psychedelic electric guitar adding depth throughout the composition.
Acoustic guitar and kora introduce "Forsaken," a song about refugees in Africa and abroad. Tamar's tender, heartfelt vocals lift a track that asks questions and offers support to those who are downtrodden. Zamba flows expertly again with strength and composure.
"Acholi Boy" is a fine example of Zamba's storytelling. Accompanied by only the likembe, he tells the tale of a malnourished boy that was forgotten in Kampala who deserved and wished for more from life.
The band dips into some uplifting acoustic hip hop with electric accents on "Flower of the Heart." Zamba raps with precision and emotion, leading to the chorus which introduces Tamar's vocals.
Bashengezi demonstrates his soukous guitar mastery on "Sokota," adding his sweet voice to the mix. This song is all about losing oneself to the rhythm and it's easy to do with this jumping track.
"Amaka" is one of the most interesting tracks on the album. The feeling is different from the rest of the compositions. The ambiance adds so much depth to this song, one of the few to include keyboards. The likembe again punctuates everything brilliantly. Zamba tells a story about the elders and their fireplace university where they would teach the younger generation, keeping the family together. A perfect way to close the record.
The debut release from Nsimbi is a fine example of an album that features mostly traditional instruments yet sounds fresh and different. Zamba and Tamar's romance adds to the passion of their vocal harmonies and their bandmates Kinobe and Bashengezi give tremendous structure to each track. The group has found their musical footing and their future looks very promising. Zamba and Tamar believe that music helps improve society and with their joyous outlook, it's easy to see how their melodies and lyrics uplift others.
Originally published in RootsWorld Magazine.