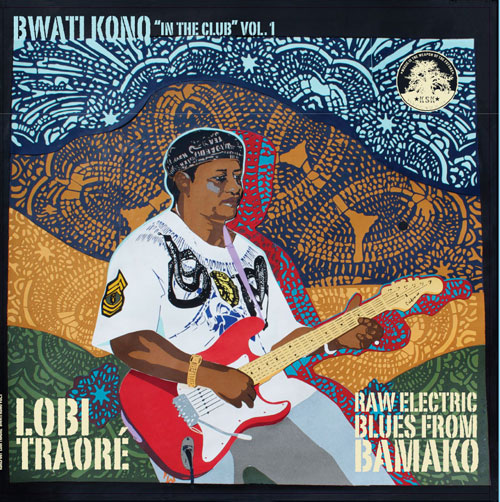 [audio:http://splintersandcandy.com/wp-content/uploads/2012/11/04-Jama.mp3|artists=Lobi Traoré|titles=Jama]
Lobi Traoré – "Jama"
Bwati Kono
Lobi Traoré was one of Mali's finest guitarists. Sadly, he passed away suddenly in 2010. His musical legacy lives on and continues to grow every year that passes. One of the last albums he recorded was Bwati Kono "In the Club" Vol. 1. Raw electric blues from Bamako. Lobi was famous for playing his guitar with a lot of overdrive and minimal grounding when he performed live. His heavily distorted sound grabs a hold of you and doesn't let go. When he would record studio albums, the overdrive would be toned down to balance out the mix. Bwati Kono features Lobi at his very best; gritty and unreserved. Under the early guidance of Ali Farka Touré, he became well known among musicians and performed with artists as diverse as Bonnie Raitt, Damon Albarn (Blur, Gorillaz) and Jackson Browne.
"What I love about Lobi's playing is how hypnotic, bluesy, and emotional it is—absolutely his own style, but in direct line with the deep, modal Delta blues I love. He was a rising star, carrying on the soulful, improvisational style of Ali Farka Touré and John Lee Hooker." – Bonnie Raitt
While this great album was released a couple of years ago, Kanaga System Krush has reissued the record on delicious vinyl with beautiful cover art by Northern California paper artist, Tahiti Pehrson. Today it is not uncommon to hear distorted electric blues guitar coming out of Mali, but no one plays it quite like Lobi. And hearing his passionate playing on high fidelity wax is a treat everyone should experience. You can instantly notice how amazing his guitar sounds, pushing through the speakers with force. His presence is simply undeniable. Lobi's quick, repetitive riffs will set you into a trance while the band behind him propels the groove to atmospheric heights. Any African music lover or blues fan will treasure this record.
Listen to Lobi rip through "Jama" above. The song starts out with some nice distortion and then he kicks it into high gear, letting the feedback and overdrive of his guitar bleed right through the heart of the song. Check out a great video put together by Kanaga System Krush featuring an interview with Lobi Traoré below.