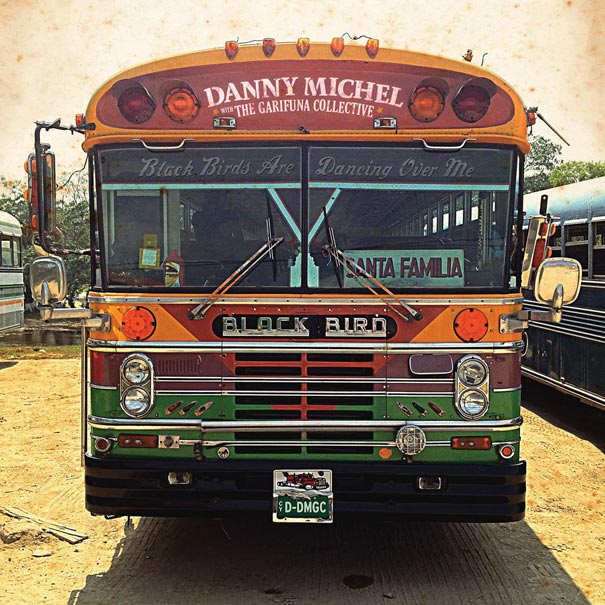 [soundcloud url="http://api.soundcloud.com/tracks/87003947″ params="show_artwork=false&show_comments=false" width="100%" height="166″ iframe="true" /]
Earlier this summer we reviewed The Garifuna Collective's Ayó. At the same time The Garifuna Collective released another album with their Canadian friend Danny Michel entitled Black Birds Are Dancing over Me on Stonetree / Cumbancha. Michel has numerous Juno Award nominations behind him, including one for "New Artist of the Year" in 2004 and another for "Best World Music Album" this year. His singer-songwriter sensibilities are often compared to Paul Simon or Elvis Costello, but Michel is more interested in carving out his own musical destiny instead of following someone else's.
After he traveled to Belize and heard Garifuna rhythms around town, he became fascinated with the sound of the segunda and primero drums in addition to the jawbone and turtle shell. Michel returned to Belize a dozen times over the years, creating a scholarship fund to promote educational opportunities for local children. Along the way he fell in love with Garifuna music. In 2011 Michel sought out Ivan Duran, the producer of The Garifuna Collective's Ayó and fouder of Stonetree Records, to discuss working together. After Duran discovered how much Michel appreciated Garifuna music, he agreed to work with him and The Garifuna Collective.
"I did have to win them over in a way. Here I was some Canadian singer-songwriter whose music doesn't really make sense to them at first. The most important part of the song would be the lyrics, I mean my music is not really loud, you can't dance to it, so what's it good for, really? I think they were skeptical but still into it for the adventure." – Danny Michel
Black Birds Are Dancing over Me combines the tight rhythms of The Garifuna Collective with Danny Michel's original songwriting. While this is a more pop-oriented record than The Garifuna Collective are known for, both acts challenge each other to work outside of their comfort zones. While the music took a while to come together, the bond between Michel and The Garifuna Collective grew rapidly. The Garifuna influence gives this record a deep, underlying groove throughout making each track pop off the disc. Originally released as an eight-song album in Canada by Six Shooter Records, Black Birds Are Dancing over Me has been re-released by Stonetree and Cumbancha with two additional tracks.
Listen to "This Is What Is" featuring Paul Nabor above and check out a video of Danny Michel's Stonetree Sessions with the Garifuna Collective in Belize below. Don't miss part two of the video on youtube. Take a look at Danny Michel and The Garifuna Collective's tour dates to see where they will be appearing next.