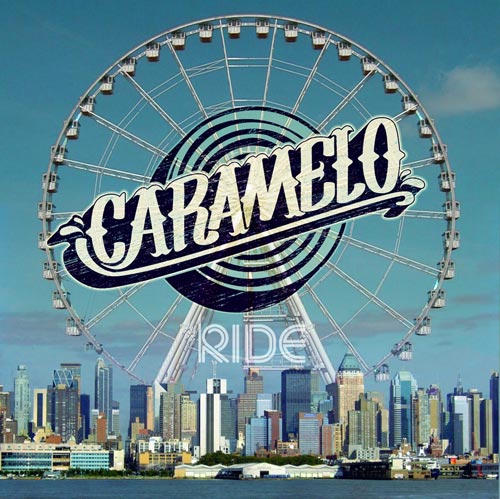 Caramelo release their debut album entitled Ride today. This exciting group from NYC mixes flamenco with funk, r&b, soul, rock and Latin grooves. Their sound is as diverse as the city they call home. The band is made up of top notch musicians and flamenco dancers. Sara Erde provides sensual, bilingual vocals while flamenco singer Alfonso Cid adds his own gritty, soulful voice to the mix. Duende is the spirit of expression and energy that drives flamenco and Caramelo is full of it. Their New-World sound and unexpected instrumentation celebrates the many layers of flamenco music. While Sevilla, Spain is the home of flamenco, Sara knew the group had to find their own identity.
"In flamenco, people always sing about the neighborhood they are from. That authenticity, that sense of place is so important. That's the starting point for our music." – Sara Erde
Sara Erde and guitarist Jed Miley met in New York and shared a passion for flamenco. More importantly, they shared a vision to combine flamenco with the sounds of the city streets. Traditional palos and NYC club beats seemed a natural fit with the endless musical possibilities found in Manhattan and Brooklyn. Flamenco funk for the masses with a Gypsy soul twist. Caramelo is made up of Jed Miley (flamenco/electric guitars), Sara Erde, Sol "La Argentinita," Isabel del Día, Xianix Barrera, and Raquel Aurelia (vocals/dance), Mireya Ramos (vocals/violin), Alfonso Cid (cante/flute), Jose Moreno (cante/percussion/dance), Vladimir Shvets (accordion), Sean Kupisz (bass), and Joshua Castillo (drums). This music is fresh and upbeat, guaranteed to get you dancing in no time. Don't take my word for it, watch the video for "The Girl Is Gone" below. Catch Caramelo at their release party for Ride at Drom on June 2nd with special guests from Antibalas, Chicha Libre, and Gregorio Uribe Big Band. Grab the CD at your local record store today.