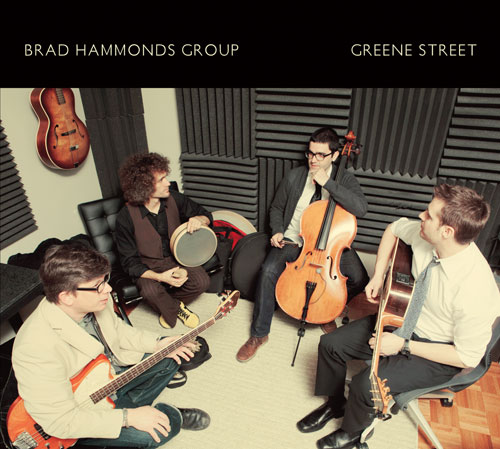 Brad Hammonds and his group explore acoustic instrumental music with a global outlook. Their new record, Greene Street, reveals a spontaneous approach with a talented roster of musicians. Brad's guitar is accompanied by Will Martina on cello (Burnt Sugar the Arkestra Chamber), Mathias Kunzli on percussion (Regina Spektor) and Jason DiMatteo on bass (Burnt Sugar). Known for his quicksilver guitar playing, Brad Hammonds effortlessly moves from folk to bluegrass to Middle Eastern beats to Celtic riffs in the blink of an eye. "It's bizarre," Hammonds laughs. "I don't know where it comes from. I'm a white guy from Delaware, but I write world folk-rock." Studying the drums while growing up influenced the percussive technique Hammonds uses on his guitar today.
"A lot of the time signature shifts and techniques I use come from studying the drums. I'm trying to play the drums and the guitar at the same time. I break a string nine times out of ten when I play." – Brad Hammonds
When Hammonds, Martina, Kunzli and DiMatteo got into the studio, their ideas came together quickly. An open tuning or a piece of a melody led one note to another as the songs practically wrote themselves. By avoiding any unnecessary overdubs, Greene Street maintains a nice, organic sound throughout. This free but thoughtful and textured set of songs will impress you with their ambition. The acoustic drive of this music prevails as Brad Hammonds and his group roll through rootsy grooves and rocking reels while feeding musical ideas off each other. Listen to a selection of tracks from Greene Street above or at bandcamp. Brad Hammonds will be at The Friars Club on Thursday, August 2nd and Caffe Vivaldi on Wednesday, August 8th.